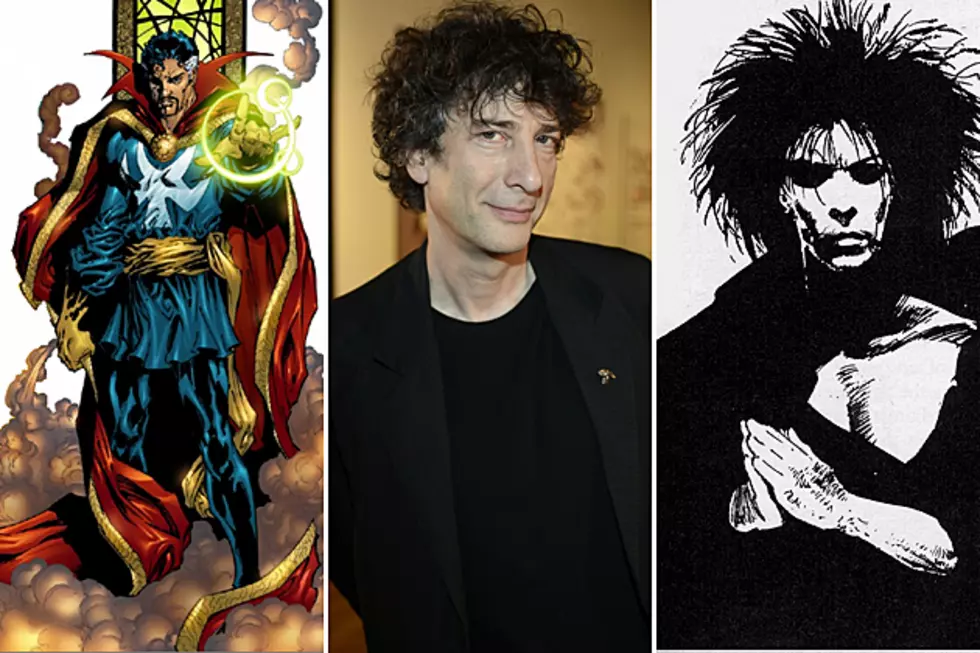 The Neil Gaiman Movies That Never Happened (But Almost Did)
Marvel/Tim Mosenfelder, Getty Images/DC Comics
Though he got his start with comic books like 'Sandman' and 'Black Orchid,' Neil Gaiman has never been content to stay in one genre.
His work as a screenwriter ('Beowulf'), TV scribe ('Doctor Who'), author ('American Gods') and more has solidified Gaiman's status as one of the most beloved storytellers of our time. (He's even mastered the art of Twitter.)
Despite having some of his novels adapted for the big screen ('Coraline,' 'Stardust') and working with everyone from Robert Zemeckis to Hayao Miyazaki (he penned the American translation of 'Princess Mononoke'), Gaiman has had several movie projects languish in the pits of development hell.
With his latest novel 'The Ocean at the End of the Lane' earning rave reviews (and talk of a big screen adaptation already underway), let's take a look at some of Neil Gaiman's movie projects that are currently taking up space in Lucien's library. (That one's for the 'Sandman' nerds.)
1

Marvel loves to talk about making a Doctor Strange movie (see their recent announcement of projects in development), and a few years back they teased fans with the prospect of a Neil Gaiman-penned 'Strange' movie that would've been directed by Guillermo del Toro. But then del Toro got busy developing 'The Hobbit,' only to leave 'The Hobbit' for 'Pacific Rim' and other projects. As it turns out, a Gaiman/del Toro Doctor Strange movie was never more than talk from the set of 'Hellboy 2.' 

2

Few comic books are as beloved as Neil Gaiman's epic saga of Dream, Death, Desire and the rest of Endless family. A statement on the nature of storytelling in comic book form, Gaiman's 75-issue masterwork has also proven nearly impossible to adapt to the big or small screen.

Various stabs at 'Sandman' movies have been attempted since the '90s, including a notorious version from 'Batman' producer Jon Peters that Gaiman called "easily the worst script I've ever read." (One version had Dream in tights punching out bad guys like a common superhero.) Despite involvement from everyone from Roger Avary to Joel Schumacher -- and a script from the 'Pirates of the Caribbean' scribes that met with Gaiman's approval before being squashed by Peters -- the author has more or less disavowed himself of any involvement with a 'Sandman' movie.

Recently some artwork, created by 'Sandman' artist Jill Thompson, from a movie pitch Gaiman gave to Warner Bros. surfaced suggesting what might have been.

3

'Death: The High Cost of Living'

The 'Sandman' character Death (basically The Grim Reaper as a sort of proto-"manic pixie dream girl") is one of Gaiman's most beloved creations. So it makes sense that he planned to make an adaptation of the 1993 DC/Vertigo mini-series 'Death: The High Cost of LIving' his directorial debut.

The project was at various stages of development for years, with talk of everyone from Claire Danes to Shia LaBeouf in the lead roles of Death and Sexton, the young man whose life is forever changed when he joins Death on the one day in every century when she gets to be human. At one point Guillermo del Toro was set to produce the film, which would've been called 'Death and Me,' and Gaiman even went so far as to visit the set of 'Hellboy 2' for advice on directing. But, sadly, DC Entertainment's focus on their core superhero characters ultimately (pardon the pun) killed any chance of a Death movie bringing about a resurgence of ankh necklaces and Goth-y top hats.

4

Back in 2008, 'The Incredible Hulk' director Louis Leterrier expressed interest in bring Gaiman's Elizabethan-era take on the Marvel universe to the big screen. Gaiman was all for the idea, and suggested it could be a possibility with Marvel finally producing their own films.

Marvel head Kevin Feige even said fans could potentially see Peter Parquagh, the Four from the Fantastick and the rest of the '1602' gang down the line, but not anytime soon. Since all of Marvel's upcoming movie projects are firmly set in the present day, it's safe to say the project has stalled. Perhaps Marvel could use '1602' to launch a series of "What If?" animated movies.

5

NPR/Amanda Edwards, Getty Images

NPR/Amanda Edwards, Getty Images

Gaiman wrote several screenplay drafts for a proposed adaptation of Nicholson Baker's acclaimed novel about a man who uses his newfound ability to stop time to get into racy misadventures. Robert Zemeckis developed the project with Gaiman, but eventually got caught up making a zillion motion-capture movies. Now that Zemeckis is back to making films with actual actors, perhaps he'll jumpstart this dormant project.

6

Pantheon Books/Koki Nagahama, Getty Images

Pantheon Books/Koki Nagahama, Getty Images

Fans of Charles Burns' creepy indie comic 'Black Hole' flipped out over the news that Gaiman and his 'Beowulf' writing partner Roger Avary were attached to a big-screen version for director David Fincher. But Fincher's notorious working methods (according to Gaiman, 'The Social Network' helmer wanted "ten drafts, done over and over") caused Gaiman and Avary to leave the project. Fincher eventually left as well, leaving fans to wonder what a collaboration between the guy who did 'Seven' and Gaiman would be like.

7

David Goyer ('Man of Steel') penned a screenplay for Gaiman's story about a murder in Heaven, but was unable to entice a studio that would allow him to direct the project. (He said back in 2004 that he hoped 'Blade: Trinity" would give him the clout to make 'Murder Mysteries.') It took a while, but it's safe to say Goyer has the clout now. Still, it's been a while since we heard any news on the project.

8

Workman/Dominique Charriau, Getty Images

Workman/Dominique Charriau, Getty Images

The fact that Gaiman and Terry Pratchett's beloved comedic fantasy novel was at one time in the hands of Terry Gilliam should tell you all you need to know about why it was never made. Gilliam penned a screenplay with Tony Grisoni, and even had Johnny Depp and Robin Williams attached at one point. But like many too-awesome-to-exist Terry Gilliam projects, this one failed to get made despite the fact that Gilliam and partners secured most of the financing. After an American distributor failed to come through, Gilliam and all concerned moved on to other projects. Word is a television version is in the works with 'Monty Python' alum Terry Jones.

9

Dave McKean/Harper Collins

Dave McKean/Harper Collins

Director Henry Selick was all set to follow up his much-loved adaptation of 'Coraline' with a stop-motion take on Gaiman's young adult novel 'The Graveyard Book.' But after Disney dumped Selick's 'Shadow King' project, they snatched 'Graveyard Book' away as well and attached Ron Howard to a live-action version of Gaiman's dark spin on 'The Jungle Book.' So it seems another Gaiman/Selick animated collaboration will only exist in our dreams.

10

Michael Buckner, Gareth-Cattermole/Getty-Images

Michael Buckner, Gareth-Cattermole/Getty-Images

In 2011, it was announced that Gaiman would be adapting the classic Chinese tale 'Journey to the West' into an epic trilogy with James Cameron consulting on the 3D production. But since then things have been all quiet on the 'West' front, possibly because of the project's reported $300 million budget. Gaiman did travel to China for research, and plans to write a non-fiction book based on his travels there.