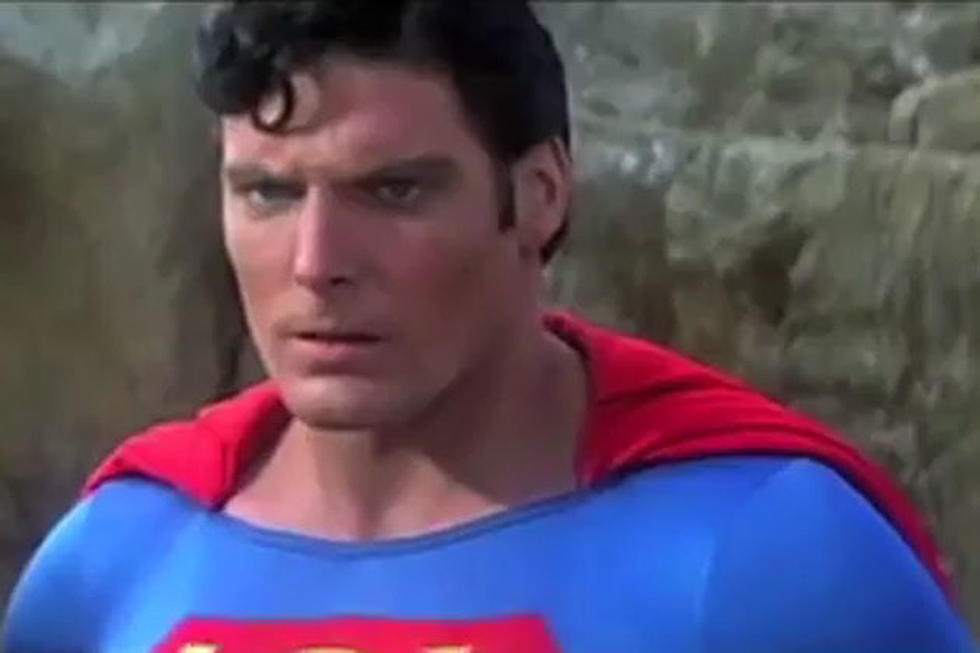 Epic Movie Mash-up Video Compiles Superheroes Coming to the Rescue
While 'The Avengers' is an epic ensemble of Marvel superheroes, YouTube user SleepySkunk thinks the assemblage of heroes isn't epic enough! His latest mash-up video pays homage to pretty much every superhero ever made -- from the good ('Spider-Man,' 'The Dark Knight'), the pretty good ('Blade,' 'Iron Man 2') to the downright terrible ('Steel,' 'Catwoman').
Watch this nearly five minute-long, well-edited supercut of movie superheroes ready for action. And see if you can name everyone!
If you must know, that's 88 movies in all that were used to create this mash-up. Yup, we counted -- and here they are in alphabetical order:
'Barb Wire'
'Batman'
'Batman & Robin'
'Batman Begins'
'Batman Forever'
'Batman Returns'
'Batman: Mask of the Phantasm'
'Batman: The Movie'
'Black Mask'
'Blade'
'Blade II'
'Blade: Trinity'
'Blankman'
'Captain America: The First Avenger'
'Catwoman'
'Chronicle'
'Condorman'
'Daredevil'
'Defendor'
'Dick Tracy'
'Elektra'
'Fantastic Four: Rise of the Silver Surfer'
'Ghost Rider'
'Ghost Rider: Spirit of Vengeance'
'Green Lantern'
Hancock'
'Hellboy'
'Hellboy II: The Golden Army'
'Iron Man'
'Iron Man 2'
'Jet Jaguar'
'Jonah Hex'
'Judge Dredd'
'Kick-Ass'
'LXG: League of Extraordinary Gentlemen'
'Megamind'
'Meteor Man'
'Mighty Morphin Power Rangers: The Movie'
'My Super Ex-Girlfriend'
'Mystery Men'
'Orgazmo'
'Punisher: War Zone'
Roger Corman's 'Fantastic Four'
'Spawn'
'Spider-Man'
'Spider-Man 2'
'Spider-Man 3'
'Steel'
'Super'
'Supergirl'
'Superman'
'Superman II'
'Superman Returns'
'Tank Girl'
'Teenage Mutant Ninja Turtles'
'The Amazing Spider-Man'
'The Avengers'
'The Crow'
'The Dark Knight'
'The Dark Knight Rises'
'The Fantastic Four'
'The Green Hornet'
'The Hulk'
'The Incredible Hulk'
'The Incredibles'
'The Mask'
'The Phantom'
'The Powerpuff Girls Movie'
'The Punisher' (1989)
'The Punisher' (2004)
'The Return of Captain Invincible'
'The Rocketeer'
'The Shadow'
'The Spirit'
'The Super Inframan'
'The Toxic Avenger'
'Thor'
'TMNT II: The Secret of the Ooze'
'Ultraman'
'Unbreakable'
'Underdog'
'V for Vendetta'
'Watchmen'
'X2: X-Men United'
'X-Men'
'X-Men Origins: Wolverine'
'X-Men: First Class'
'X-Men: The Last Stand'
The description on YouTube has a timestamp of which superhero is from what movie, so if you were too young remember the Pamela Anderson atrocity that was 'Barb Wire,' now you know.