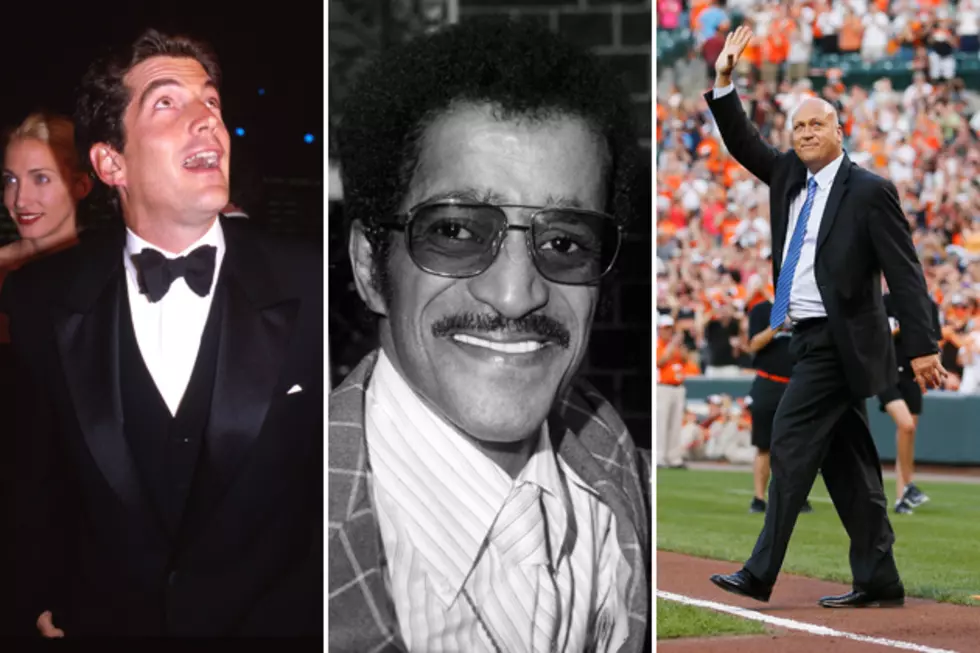 Martin Luther King and 10 Other Famous 'Juniors'
Rob Ford/Hulton Archive/George De Sota, Getty Images
Today people will stop and reflect about the legacy of the late civil rights leader Martin Luther King, Jr. — one of a number of famous people who made marks of their own despite having names that ended with "Junior." Dr. King's father was also a minister who inspired many followers, but obviously his son reached even greater heights. Here's a look back at ten other famous Juniors.
Sammy Davis Jr.
The apple didn't fall far from the tree for this Rat Packer. The actor and singer's father, Sammy Sr., brought his son along with him as he traveled around the country as part of a vaudeville act.  It was enough to hook Sammy Jr., who chose to spend his career traveling the same path.
John F. Kennedy Jr.
"John-John," as he was known, was the oldest son of President Kennedy and was admired for his good looks and his charisma. Unfortunately, his life was cut short in 1999 when his plane crashed. Since John Jr. was born just sixteen days after his father took office, his youngest years were documented by White House photographers. He couldn't escape the spotlight during his thirty-nine years.
Cal Ripken Jr.
One of the greatest shortstops of all time and member of the Hall of Fame, Ripken is best known for breaking Lou Gehrig's consecutive games played streak. His endurance was perhaps a testament to the hard work he put in learning the game from his father, Cal Sr., who managed the Orioles during the 1980s. For the Ripkens, it was a true family affair as Cal Jr.'s brother, Billy, was a teammate as well on the Baltimore squad.
Harry Connick Jr.
The singer and actor is among the most popular and versatile performers in entertainment history, racking up album sales and developing a loyal fan base. But this is one performer who eclipsed whatever local New Orleans' fame his dad gained from crooning at nightclubs. Harry Sr.'s day job, as District Attorney of Orleans Parish, kept him plenty busy. It's Harry Jr. who really ran with the genetic musical chops.
Ken Griffey Jr.
Arguably one of the best baseball players of the 1990s, Griffey was a thirteen-time All-Star known for both his offensive and defensive prowess. In 1990, he and his father became the first father/son combination to take the field together for the Seattle Mariners. It was the elder Griffey who had success where baseball statistics matters most (championships) but "The Kid" is accepted as the better of the two athletes.
Cuba Gooding Jr.
He won an Academy Award for 'Jerry Maguire' in 1996, but his career has kind of tanked since then. Yet, even after a series of flops, Gooding chugs along. He got his determination from his father, Cuba Sr., who flew under the radar during his career singing in the Motown group The Main Ingredient. Sadly, the elder Gooding abandoned his family in 1972, leaving Cuba Jr. to be raised by his mother.
Freddie Prinze Jr.
Once an up-and-coming young actor, Prinze Jr. has stepped out of the spotlight in recent years to focus on producing and directing. Prinze Sr. had a comedy career of his own, performing on late-night talk shows and making his way around the comedy circuit. Prinze Jr. might not have demonstrated superior comedic abilities in movies like "Scooby Doo," but he clearly has the same flair for dramatics. Today he works for the WWE.
Dale Earnhardt Jr.
When he was younger, Earnhardt Jr. worked at his father's dealership as a mechanic. He learned everything there was to know about cars. Aptly enough, his father, Dale Sr., was one of NASCAR's greatest drivers. So when it came time for Dale Jr. to set out on his own, there was nothing else he wanted to do more than follow in his father's footsteps. In 2001, however, tragedy struck during a race that took Dale Sr.'s life.
Ed Begley Jr.
Ed Begley Sr. was an award-winning actor, which set high expectations for his son, Ed Jr., when he decided to go the way of Hollywood. Decades later, though, the younger Begley is known more as an influential environmentalist than as an entertainer. It was his role on 'St. Elsewhere' that gave him the most fame and accolades, but it's his green life now that earns him the most attention.
Floyd Mayweather Jr.
This eight-time world title holder is one of the most accomplished boxers in recent history. He learned his moves from his father, Floyd Sr., who was a boxing trainer and a welterweight contender. Mayweather Jr. remains undefeated as a pro and it's his defensive skills that have gotten him there. Credit goes to his father for helping him make it this far.