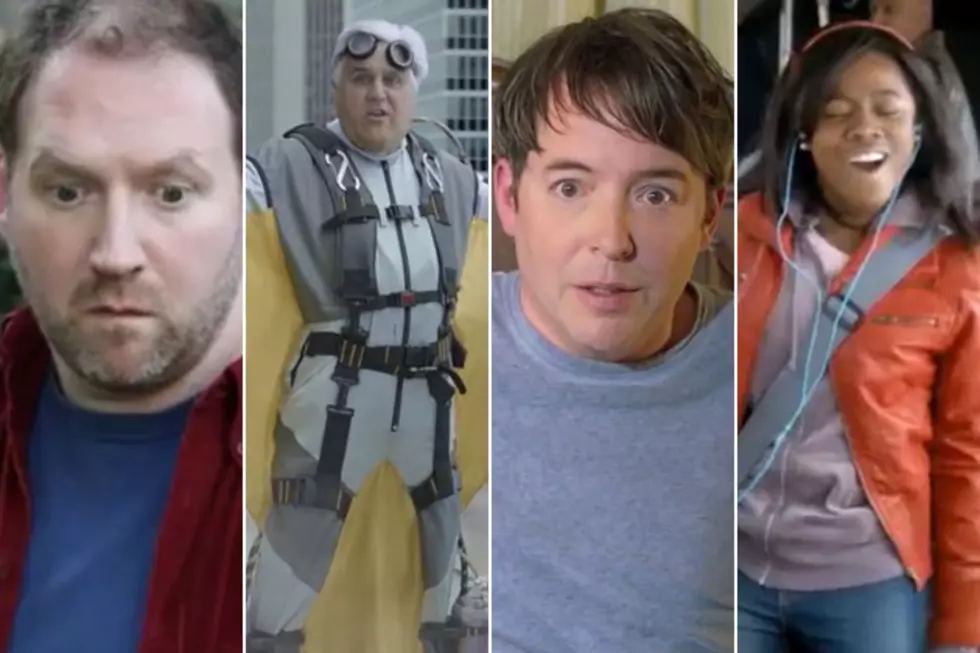 Best Commercials of 2012 (So Far)
The best commercials of 2012 are proof that advertisers will do anything to get your attention. Our favorites of the year so far include a lot of celebrities, mischievous dogs and the breathtaking voice of Adele.
Jerry Seinfeld, Will Ferrell, Jay Leno, Matthew Broderick and Clint Eastwood have all already popped up in some of 2012's most memorable ads. But they have competition from cute animals, some famous cartoon characters and plenty of outrageous humor. Check out the 10 best commercials of 2012 (so far) below.
Dog Bribes Owner With Doritos
In this clever ad, a man comes across evidence that his dog has done some very bad things to a cat. When the pooch realizes he's been caught, he bribes his owner with some tasty Doritos. USA Today's annual Super Bowl ad ranking panel gave 'Man's Best Friend' their highest score of 2012. Fans agree that this is one of the best and funniest commercials of the year.
Ferris Beuller Returns to Sell Hondas
Honda's 'Ferris Bueller' spot was probably the most anticipated commercial of the Super Bowl, because of the excitement surrounding Matthew Broderick's decision to reprise his legendary character. Did it live up to expectations? Well, that's always hard to tell, but there were definitely enough 'Ferris Bueller's Day Off" references to keep fans of the 1986 comedy classic happy.
Will Ferrell For Old Milwaukee
In order to see this funny commercial-- already one of 2012's best-- you would've had to have been one of 15,000 Super Bowl-watching households in North Platte, Nebraska. It's all part of Ferrell's curious ad campaign for Old Milwaukee, in which he deliberately films low-budget commercials run in random-seeming Midwestern locales like North Platte, Davenport, IA and Terre Haute, IN. Of course, since we are in the internet age, the spots eventually end up on YouTube for all to see.
Target's Adele Commercial
Adele's tour-de-force 'Rolling in the Deep' gets a makeover from a youngster on a school bus in this 2012 spot for Target, which is selling a version of Adele's smash hit album '21' with exclusive tracks. With a voice like that, maybe one day kids in school buses will be singing the songs of the commercial's young star. Is this the best commercial kid of 2012?
Clint Eastwood Gives a Rousing 'Halftime' Speech
After scoring during Super Bowl 2011 with an inspirational Detroit-based ad starring Eminem, Chrysler returned to the automotive capital, this time with screen legend Clint Eastwood. In the dramatic spot, the 81-year-old gave a halftime pep talk to all of America. The commercial became the most talked about (and most spoofed) advertisement of the Super Bowl, making it a shoe-in for one of 2012's best.
MetLife Commercial Features Impressive Roster of Cartoon Characters
Charlie Brown and the 'Peanuts' gang have been working for MetLife for years. But in the insurance giant's 2012 Super Bowl commercial, they give Charles Schultz's creation all sorts of new friends from the Hanna Barbera and Looney Tunes universes. This is easily the best amalgamation of 'toons since 'Who Framed Roger Rabbit.'
Crazy Kia Ad Features Adriana Lima, Chuck Liddell and Motley Crue
Adriana Lima was the belle of the Super Bowl commercial bell, staring in two spots made for the big game. But we prefer her Kia commercial to her Teleflora one because the car spot also featured a lumberjack slicing a sandwich and a cowboy riding a rhino. Not to mention Chuck Liddell and '80s hair legends Motley Crue. Best commercial ever?
Toyota Reinvents Everything
This Toyota ad is a bit deceptive. The car company didn't really go on to reinvent the couch and the baby and the DMV after reinventing their flagship Camry vehicle. But since their couch is made of swimsuit models, their baby doesn't need diapers and their DMV has a miniature golf course, we kind of wish that they had.
Jerry Seinfeld Bribes Man to Get on the Acura NSX Waiting List
Jerry Seinfeld really wants to be the first person to buy an Acura NSX -- a car that isn't expected to be available for another few years. So he tries to bribe the guy who is number one on the waiting list, even offering him the notorious "Soup Nazi" character in exchange for the top spot. Finally, Jerry wins him over with access to his own personal network of Manhattan zip lines. However, in one of the best celebrity cameos in 2012 commercials, fellow car nut Jay Leno swoops in and makes a better offer, leaving Seinfeld with a feeling that Conan O'Brien can probably relate to.
Graduation Gift of Chevy Camaro Is Not What It Seems
A high school senior thinks his parents have bought him a Chevy Camaro for his graduation gift, and celebrates heartily. However there is a twist which is bound to not only devastate the teen, but also his friends who have joined him in his hysterics in this very funny ad.
Check back regularly for more of the best commercials of 2012.