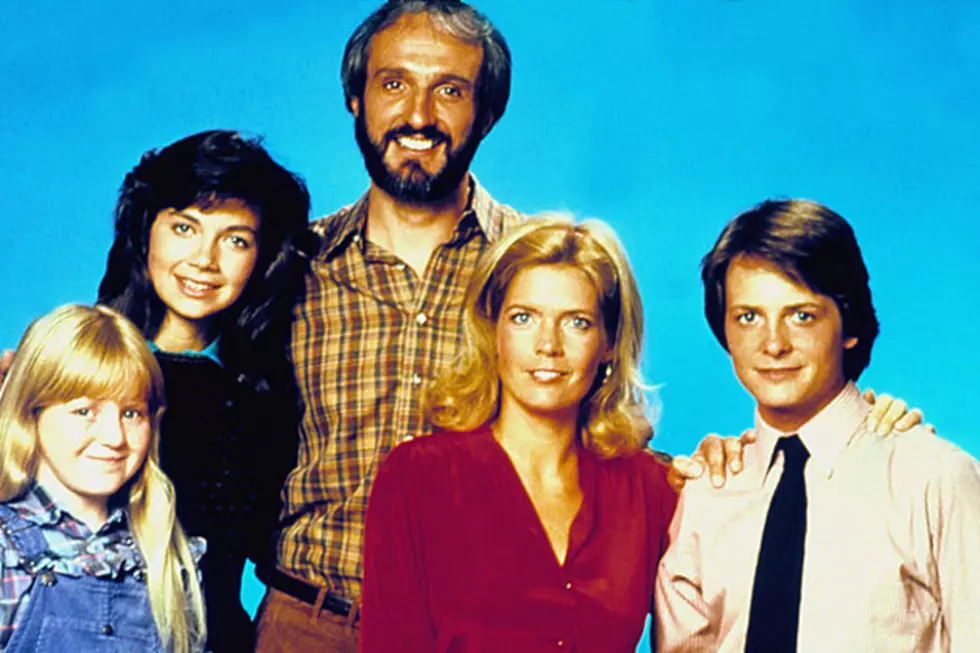 See the Cast of 'Family Ties' Then and Now
NBC
Among the many television families we've encountered over our years glued to the TV set it seems certain that the 'Family Ties' cast is one of the most beloved. Week after week viewers flocked to the box to see what the Keatons had in store for America -- and it was rarely a let down. Perhaps unintentionally, the cast became the ideal family for the American culture of the 1980s as it dealt with issues such the changing liberalism of the '60s and '70s to the conservatism of the Reagan years. Amid it all, the series accidentally produced one of the most successful actors of all time: Michael J. Fox.
And while the rest of the cast haven't had a list of credits like Fox (sans some noticeable guest stars) they've all been doing just fine. If only there were a way to see what they're doing now. Oh, look at that...we have a list below!
Meredith Baxter, Elyse Keaton

IMDB / Astrid Stawiarz, Getty Images

IMDB / Astrid Stawiarz, Getty Images

Then: Baxter played Elyse Keaton, the ex-flower-child mother of Alex, Mallory, Jennifer and Andrew, and wife to Steven. Having already had a steady career and a  big break with 'Bridget Loves Bernie,' her role on 'Family Ties' turned her into America's favorite mother -- even if she played an ex-hippie in a country turning progressively more conservative.

Now: Though 'Family Ties' has been off the air for just about 24 years, Baxter's work seems to have never stopped. Post-'Ties,' she began producing and starring in telefilms such as 'The Kissing Place' and 'The Betty Broderick Story,' earning her something of a reputation as the queen of melodramatic Lifetime TV movies. And at the age of 61, Baxter came out as a lesbian.

Michael Gross, Steven Keaton

NBC / Alberto E. Rodriguez, Getty Images

NBC / Alberto E. Rodriguez, Getty Images

Then: Not only was Gross famed for his role of Steven Keaton but he also garnered some attention for that mean beard he grew throughout the seasons. Having appeared in some television and film roles before 'Ties,' the show undoubtedly acted as his breakout role -- one that would surely last him a lifetime of recognition.

Now: Gross' career after 'Family Ties' has definitely been better than before. After the show's end, he co-starred in the cult classic 'Tremors' alongside Kevin Bacon -- a role that would offer him a few movies and even a show of its own. He's also made several spots on 'ER', 'How I Met Your Mother,' 'Call Me Fitz' and many, many more.

Michael J. Fox, Alex P. Keaton

NBC / Jason Merritt, Getty Images

NBC / Jason Merritt, Getty Images

Then: Before 'Family Ties,' Fox was admittedly selling off sections of his couch for money, but once he won over the audition (after a second attempt because creator Gary David Goldberg wasn't sold on the first) things changed quickly. Playing the young Republican Alex P. Keaton, America became obsessed with Michael J. Fox -- especially when he was cast in a little known film, 'Back To The Future.'

Now: Having appeared in hit after hit over the years -- and even another hit series, 'Spin City' -- Fox now mainly focuses his celebrity on attempts to discover a cure for Parkinson's, for which he was diagnosed in 1991. His organization, the Michael J. Fox Foundation, proves to be one of the leading foundations in finding a cure. In the midst of his efforts, Fox has appeared in several current television roles as well as even reprising a famous 'Johnny B. Goode' performance back in 2011.

Justine Bateman, Mallory Keaton

NBC / Michael Loccisano, Getty Images

NBC / Michael Loccisano, Getty Images

Then: Playing a contrast to her mother on the show Justine (older sister of Jason Bateman) portrayed Mallory, a materialistic yet lovable young woman who was often used as fodder for jokes. Despite that -- and her being the butt of many of her brother's schemes -- we couldn't resist Justine's charms.

Now: Bateman's career post 'Family Ties' has encompassed not only acting but also producing, consulting and writing. Following appearances on everything from 'Lois and Clark' to 'Desperate Housewives,' Bateman ran and operated the production /consulting company, SECTION 5. And as of the Fall 2012, she is at UCLA studying Computer Science. Will she reprise her 'Arrested Development' role opposite her brother in the new season?

NBC / Larry Busacca, Getty Images

NBC / Larry Busacca, Getty Images

Then: Perhaps her most famous role, Tracy Pollan played 'Family Ties' character Ellen Reed, Alex's feminist girlfriend. Oddly enough, the onscreen romance would lead to something even more romantic -- a marriage lasting 25 years and counting.

Now: Since their marriage, Pollan's credits seem to be few and far between; however, she did receive an Emmy award back in 2000 for her appearance on 'Law & Order: SVU.' Since then, among other TV appearances, Pollan has four children with Michael J. Fox.

Tina Yothers, Jennifer Keaton

NBC / Alberto E. Rodriguez

NBC / Alberto E. Rodriguez

Then: Starting her career as a child actress, Tina Yothers (aka Jennifer Keaton) got her 'Family Ties' gig at just nine-years-old, and thus her push into show business. Before that she was acting mainly in television commercials; however, she did land the 1981 TV movie 'The Cherokee Trail' as well as the 1982 feature 'Shoot the Moon.'

Now: Abandoning the blonde locks that people dearly recognized as Jennifer Keaton's, Yothers has sported a black hair color since the shows end in 1989, and drifted into the music industry. (She performed with the band Jaded and played the lead role in a stage musical based on the life of porn star Linda Lovelace.) She's stayed away from the spotlight of television, excepting a few on-air interviews as well as a stint on 'Celebrity Wife Swap' back in 2012.

Brian Bonsall, Andrew 'Andy' Keaton

Then: Getting his big break at just five-years-old, Brian Bonsall played Andy, the youngest addition to the Keaton clan from 1986 -1989. His performance earned him three Young Artist Awards and even an invite to play Alexander Rozhenko -- son of 'Star Trek' character Worf -- for seven episodes.

Now: Mainly finding success as a child actor, Bonsall retired from acting altogether in 1995 and pursued a career in music, forming the band Late Bloomers. Aside from being seen on the stage, he has made several media appearances in the form of various arrests for substance abuse troubles.

Marc Price, Irwin 'Skippy' Handelman

NBC / Michael Loccisano, Getty Images

NBC / Michael Loccisano, Getty Images

Then: Playing the nerdy kid-from-next-door who admired and obsessed over Mallory Keaton, actor Marc Price was cast as Skippy Handleman. As each show has it's dork, Price was such, being both the center of many jokes and also steadfast in his pursuit of Mallory.

Now: Having not had many roles post 'Family Ties,' Price worked as a stand-up comedian and appeared briefly on 'Last Comic Standing.' He now works sporadically as a writer/producer for The Disney Channel, Food Network, Animal Planet, Showtime and more.

Scott Valentine, Nick Moore

NBC / Alberto E. Rodriguez, Getty Images

NBC / Alberto E. Rodriguez, Getty Images

Then: Playing Nick Moore, the Sylvester Stallone-esque boyfriend of Mallory, Scott Valentine appeared on 43 episodes of 'Family Ties' in the '80s. Because of his popularity, a spin-off was created titled 'The Art of Being Nick.' A pilot episode aired, but despite being well-received, NBC didn't pick up the show for fear of losing the character from 'Family Ties.'

Now: Valentine consistently gained work in the '90s, appearing on several hit shows such as 'NewsRadio,' 'JAG,' and 'CSI: New York.' Today, he is married with one son.

Hulu / Robin Marchant, Getty Images

Hulu / Robin Marchant, Getty Images

Then: Yes it's true. Tom Hanks played Uncle Ned, Elyse's younger brother who had a little bit of an alcohol dependency. The role was his first recurring one since 1982 saw the surprising end of 'Bosom Buddies.' From then on, things were a little tough for Tom, and he was never heard from again.

Now: Since 'Family Ties,' Tom Hanks grew to be one of the most famous actors in the world, having won two Oscars for 'Philadelphia' and 'Forrest Gump' and a multitude of other awards that would make any actor both jealous and near-suicidal. And who could forget that infectious laugh...

Courteney Cox, Lauren Miller

Hulu / David Livingston, Getty Images

Hulu / David Livingston, Getty Images

Then: At just 23-years-old, Courteney Cox began playing a recurring role on 'Family Ties' as Alex's girlfriend, Lauren Miller. It was around that time that her career in film began, with roles in 'Masters of the Universe,' 'Mr. Fantasy' and 'Ace Venture: Pet Detective.' And then? She got some show that we can't remember the name of. Something involving "friends." "Acquaintances," maybe? "Buds"?

Now: Oh, right! Cox played the part of Monica Geller on NBC's mega-hit series, 'Friends.' After achieving an insurmountable amount of success from the show (and even some from her role as Gale Weathers in the 'Scream' films) Cox went on to star in the now-defunct FX series 'Dirt' and the current success, 'Cougar Town.' As for her ex-hubby David Arquette -- different story.