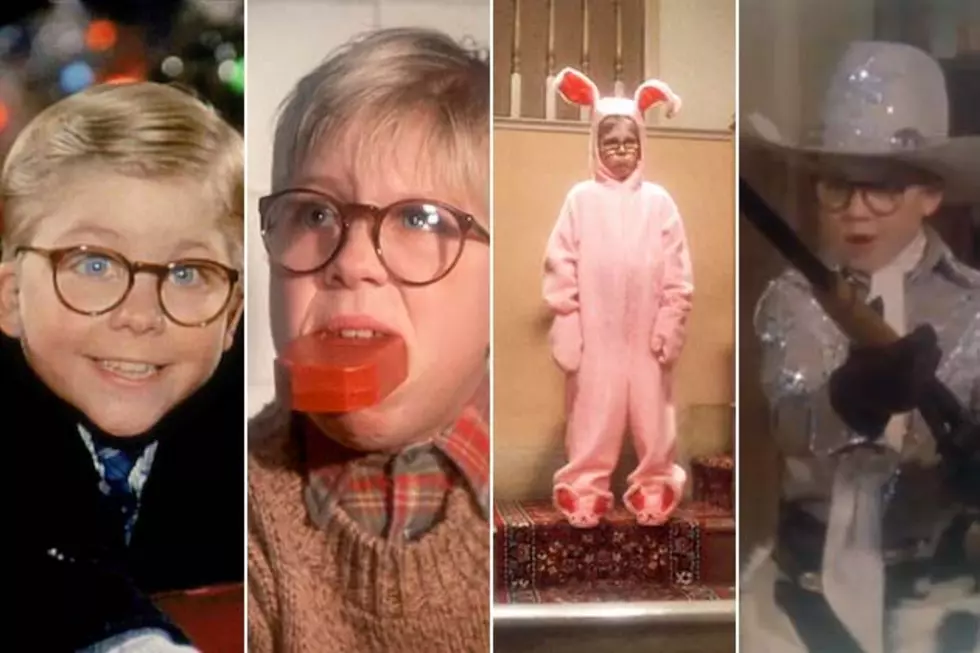 10 Things You Didn't Know About 'A Christmas Story'
MGM / Warner Bros.
Director Bob Clark's classic holiday comedy has a distinction that few family movies can claim: Most people don't mind watching it over and over again.
That's probably why TBS airs 'A Christmas Story,' the movie based on the works of humorist Jean Shepherd, for 24 straight hours on Christmas Day. Parents love watching Flick get his tongue frozen to the school's flag pole over and over again. Kids love watching little Ralphie, played by Peter Billingsley, accidentally utter the "queen mother of dirty words" and then imagine he becomes blinded from years of "soap poisoning." Families love hearing "The Old Man" utter a stream of unintelligible curses as he battles the furnace or the Bumpus' herd of smelly hounds. Even if you've watched all 24 hours of 'A Christmas Story' and can recite every scene from memory, here are some amazing facts about the movie that will shoot your eye out.
1. Co-writer/director Bob Clark got to make 'A Christmas Story' because of 'Porky's'
The director of 'A Christmas Story' got his start making very dark and scary horror films including the holiday slasher classic 'Black Christmas.' However, the movie he really wanted to make wasn't nearly as bloody.
Clark said in an interview that he was constantly asking the studios he worked for if they would be interested in doing a Christmas comedy based on the funny childhood stories that Shepherd wrote for Playboy and later published in his book 'In God We Trust, All Others Pay Cash.' Everyone turned him down until his raunchy high school comedy 'Porky's' became a massive and unexpected success. Clark said 'Porky's' gave him a free pass to pick his own projects and 'A Christmas Story' was next on his to-do list.
2. Jack Nicholson wanted to play "The Old Man"
Clark started casting the central characters for his Christmas cinematic classic and a very big name expressed interest in playing one of its most memorable parts.
Jack Nicholson, known for such films as 'Chinatown,' 'One Flew Over the Cuckoo's Nest' and 'The Shining,' received a script from Clark to see if he was interested. Surprisingly, he loved the script and wanted to play Ralphie's father, better known as "The Old Man." Unfortunately, Nicholson's asking price would have driven the entire film over its modest budget. So Clark chose actor Darren McGavin, best known at the time for playing the title role on the TV horror serial 'Kolchak: The Night Stalker,' and the rest is history.
3. Flick's tongue actually stuck to the flagpole
The movie is full of memorable, funny scenes but fewer are more memorable (and more painful to watch) than the infamous flagpole moment.
Ralphie's friends "triple dog dare" each other that a person's tongue would freeze to the school's flagpole. Flick, played by Scott Schwartz, takes the bet and actually gets stuck to the pole and abandoned by his friends when the school bell rings. In reality, of course, Schwartz's tongue wasn't frozen to the pole but it was stuck to it.
The crew rigged a fake pole with a small hole on one side attached to an air pump that would use suction to make it appear Scott's tongue was stuck. R.D. Robb, the actor who played Ralphie's friend Schwartz, said that Scott was being bratty on the set one day. So the crew got their revenge by leaving him stuck to the pole by his tongue right before a long lunch break.
4. The Bumpus' dogs ruining the family dinner didn't actually happen at Christmas
The movie is based on a collection of Shepherd's most famous and funniest stories but not all of the stories came from Shepherd's childhood Christmases.
The moment when the Bumpus' pack of mangy mongrels break into the kitchen and ruin the family's turkey was also adapted from a Shepherd story, but it didn't happen at Christmas. It happened at Thanksgiving. Also, the dogs ate a ham, not a turkey. LIES!
5. A deleted scene featured Ralphie fighting Ming the Merciless with Flash Gordon
Ralphie spends a lot of his time daydreaming about his beloved "Red Ryder Carbine-Action 200 Shot Range Model Air Rifle" and how he could use it to fend off bad guys or impress his teacher. Another scene showed how "Ol' Blue" could have saved the universe.
One of the film's deleted scenes featured Ralph imagining an adventure with comic book and radio serial superhero Flash Gordon and his beloved BB gun. The missing scene starts in Ralphie's room as he finds one of his Flash Gordon comics and begins dreaming about saving Flash from the evil Ming the Merciless on a distant, alien planet. The editors forgot to take the names of the actors who played Ming and Flash in the missing scene out of the closing credits, so keep your eyes peeled for that.
6. Peter Billingsley still has the bunny suit, the cowboy suit and the BB gun
Three of the movie's most iconic pieces of memorabilia still belong to Ralphie.
7. Billingsley now works as a movie producer and director with Vince Vaughn
Now that the cast is all grown up, they've gone on to several different careers in and around the movie industry.
These days, Peter Billingsley runs a production studio with actor Vince Vaughn called West West Picture Show Productions that produced vehicles for Vaughn such as 'Fred Claus,' 'The Dilemma' and 'Couples Retreat,' the latter of which Billingsley directed.
8. The actor who played Flick had a brief career as a porn star
Not all of the movie's cast, however, had an easy time finding a career in Hollywood as an adult.
Scott Schwartz, for instance, had a successful childhood career appearing in 'A Christmas Story' and the Richard Pryor and Jackie Gleason movie 'The Toy.' Unfortunately, he found it harder to find work as he got older and turned to adult films to make some quick money.
According to Schwartz, fellow child star Corey Feldman introduced him to several famous names in the adult industry at a party and a director asked him if he would appear in a film in a non-sexual role. That led to a more explicit starring role in 'Scotty's X-Rated Adventure' with adult film star Juli Ashton.
9. Someone bought the 'Christmas Story' house on eBay and turned it into a museum
Most of the interior shots of Ralphie's house were filmed on a sound stage in Toronto, but all of the exterior shots came from a home in Cleveland, Ohio.
The house on West 11th Street in Cleveland's Tremont neighborhood actually went up for sale in 2004 on eBay. Brian Jones of San Diego, California paid $150,000 for the house and turned it into a detailed recreation of the home featured in the movie from the boxes of Lifebuoy soap in the bathroom to the glowing leg lamp in the living room window. The attraction also features a museum that houses props and costumes from the film.
10. Billingsley helped produce a musical version of the movie for Broadway
'A Christmas Story' may not have torn up the box office the way that 'Porky's' did, but it went on to achieve a cult status that has introduced it to new generations of fans. It was only a matter of time before someone turned it into a big, lavish Broadway extravaganza.
In fact, Peter Billingsley helped bring the musical remake to the Great White Way. Billingsley says a theater group in Kansas City, Missouri wrote the original production and invited him to see it. He was so impressed with the production that he fronted additional productions in Seattle and Chicago before it made its grand debut on Broadway this year.
Written by Danny Gallagher