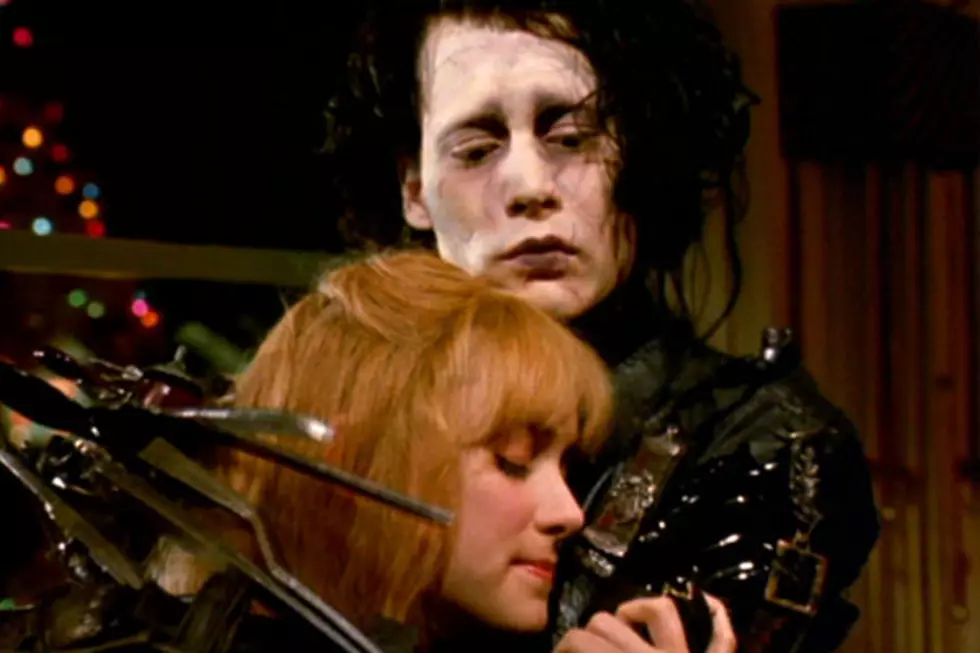 See the Cast of 'Edward Scissorhands' Then and Now
20th Century Fox
The 1990 suburban fairy tale 'Edward Scissorhands' was the first of many collaborations between director Tim Burton and Johnny Depp, the film's star. And that almost didn't happen, as Tom Cruise, Tom Hanks and even Michael Jackson were considered for the title role before it went to Depp.
See what all the cast of 'Edward Scissorhands' is up to these days below.
Johnny Depp, Edward Scissorhands
Then: Johnny Depp played the title role in 'Edward Scissorhands,' his first of eight movies with Tim Burton. 1990 was a big year for Depp: he also starred in John Waters' 'Crybaby' and left '21 Jump Street,' the TV show that had launched him toward stardom.
Now: Depp is arguably the biggest movie star in the world. This year he starred in 'Dark Shadows,' and the 49-year-old has the much-anticipated films 'The Lone Ranger' and 'Pirates of Caribbean 5' on the horizon.
Winona Ryder, Kim Boggs
Then: Ryder donned a blonde wig to play Kim, the teenage daughter of the Boggs house whom Edward quickly develops a crush on. Depp and Ryder were dating in real life during the filming of the movie and became engaged before its release. The pair's split three years later led to Depp's notorious "Wino Forever" tattoo edit.
Now: Ryder recently played supporting roles in the movies 'Black Swan' and 'The Dilemma' and also lent her voice to the Tim Burton film 'Frankenweenie.' In 2013, the 41-year-old will star alongside James Franco and Jason Statham in 'Homefront.'
Dianne Wiest, Peg Boggs
Then: Wiest played perky Avon saleswoman Peg, who "adopts" Edward and brings him to live with her family. Wiest has won two Best Supporting Actress Oscars. The first was for 1986's 'Hannah and Her Sisters' and the second for another Woody Allen movie, 1994's 'Bullets Over Broadway.'
Now: In 2012, Wiest appeared in the movies 'Darling Companion' and 'The Odd Life Of Timothy Green.' She lives in New York, and has taught classes at Columbia University's graduate program in acting.
Anthony Michael Hall, Jim
Then: Anthony Michael Hall cut a menacing presence as Jim, Kim's bully jock boyfriend who picks on Edward. Jim's aggressive, pumped-up persona was quite the departure from the geeky characters Hall played in '80s classics like 'The Breakfast Club' and 'Sixteen Candles.'
Now: In addition to his memorable appearance as a slick newscaster in 'The Dark Knight,' Hall had a long mid-decade run in the TV series 'The Dead Zone.' The 44-year-old recently guest starred on 'Warehouse 13' and next year will be in the sci-fi comedy 'Sexy Evil Genius.'
Kathy Baker, Joyce
Then: You probably remember Kathy Baker as Joyce, a flirty neighborhood housewife who is infatuated with Edward. Baker is probably most famous for her three-time Emmy-winning role as small town doctor Jil Brock on 'Picket Fences,' which aired between 1992 and 1996.
Now: The 62-year-old continues to be a regular face on TV. In 2012, she appeared on an episode of 'Criminal Minds' and has starred opposite Tom Selleck in the last five 'Jesse Stone' TV movies.
Robert Oliveri, Kevin Boggs
Then: Oliveri played Kim's obnoxious little brother Kevin. The year before, he started his run as Nick Szalinski, Rick Moranis' son, in the 'Honey I Shrunk The Kids' franchise.
Now: Oliveri stopped acting after appearing in the 'Honey I Shrunk The Audience' short for Disneyland. He went to college in Georgia and sort of disappeared from the public eye (hence the super-old most-recent pic). Now 34, he lives in Florida with his wife and two kids.
Alan Arkin, Bill Boggs
Then: Arkin channeled his everyman persona as Bill Boggs, Peg's husband and Kim and Kevin's dad. The veteran actor admitted he was a bit baffled by the script at first, but then it all made sense when he first saw Tim Burton's elaborate sets.
Now: In 2006, Arkin won a Best Supporting Actor Oscar for 'Little Miss Sunshine.' Still an in-demand actor at 78, Arkin recently stole scenes in 'Argo' and will be part of all-star casts in the upcoming films 'Stand Up Guys' and 'The Incredible Burt Wonderstone.'
Conchata Ferrell, Helen
Then: Ferrell played nosy neighborhood woman Helen. She had made her acting debut back in 1974 on a episode of 'Maude.'
Now: The 69-year-old continues to play what has become her signature role as wisecracking housekeeper Berta on 'Two and a Half Man.' In 2012, she also contributed her voice to 'Frankenweenie.'
Caroline Aaron, Marge
Then: Aaron played Marge, one of the busybody neighbors who is at first intrigued and then frightened by poor Edward. Prior to 'Edward,' the actress had roles in 'Crimes in Misdemeanors' and 'The Days and Nights of Molly Dodd.'
Now: One of those "that lady" actresses, Aaron is a regular presence on the small screen with roles in everything from 'The Young and the Restless' to 'Happy Endings.' She is perhaps best known (to 'Wings' fans anyway) for her role as talk show host Mary Pat Lee on the NBC series 'Wings.'
O'Lan Jones, Esmerelda
Then: Jones' intense religious neighbor added a creepy vibe to Tim Burton's brightly colored world. An acclaimed theater actress prior to 'Edward,' Jones married the playwright Sam Shephard at age 19.
Now: Jones still acts in films like the upcoming 'Queens of Country,' but also devotes time to music. She's the founder of the musical theatre group Overtone Industries and has written numerous operas and musicals.