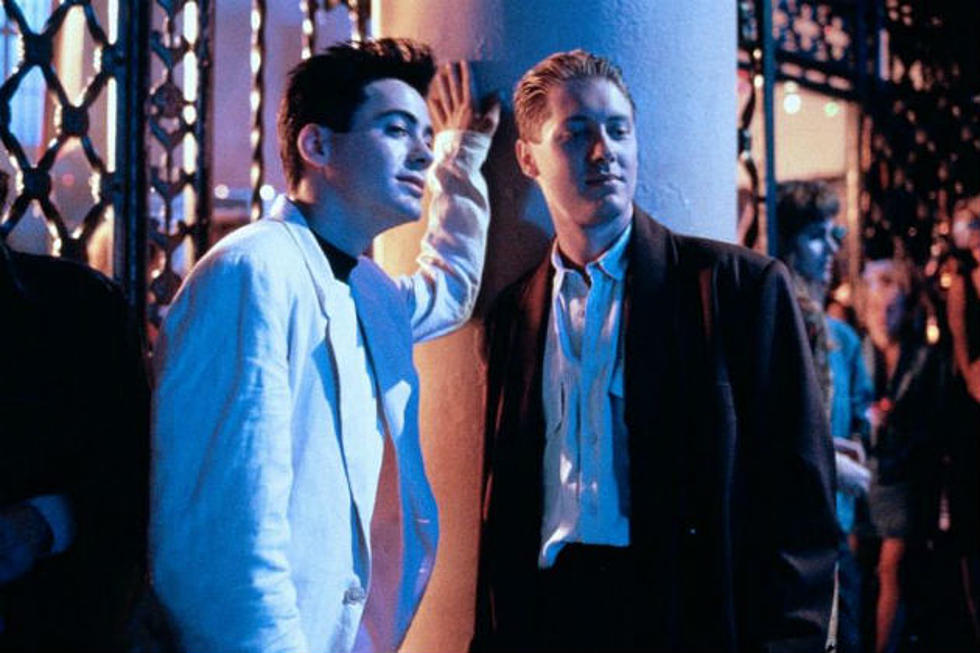 See the Cast of 'Less Than Zero' Then and Now
20th Century Fox
Robert Downey Jr. and James Spader will appear together in 'Avengers 2: Age of Ultron,' but way back in 1987, the two actors starred together in a much different film: 'Less Than Zero,' based on the novel by Bret Easton Ellis, in which a college student returns home to L.A. for the holidays to spend time with his ex-girlfriend and his junkie best friend. 26 years later, and with a reunion of sorts on the way, we thought now would be a good time to take a look back at the cast of the film and see what they're up to now.
Andrew McCarthy, Clay Easton
Then: Andrew McCarthy played Clay Easton, a role that originally went to Keanu Reeves. A member of the 80s "Brat Pack" (a group of young actors who often appeared together), McCarthy appeared in the films 'Pretty in Pink,' 'St. Elmo's Fire,' and 'Mannequin.'
Now: McCarthy has appeared on the television shows 'White Collar,' 'Royal Pains,' and 'Unforgettable.' He recently directed a few episodes of the Netflix exclusive series 'Orange is the New Black,' as well as several episodes of 'Gossip Girl.'
Jami Gertz, Blair
Then: In 1987, Jami Gertz appeared in both 'Less Than Zero' and 'The Lost Boys,' quickly making her a household name. In the former, she played Blair, Clay's ex-girlfriend.
Now: Gertz currently stars on the sitcom 'The Neighbors,' and has appeared in episodes of 'Modern Family,' 'Entourage,' and had a recurring role on 'Still Standing,' which ran from 2002-2006.
Robert Downey Jr., Julian Wells
Then: In 'Less Than Zero,' Robert Downey Jr. (credited for the first time under that name -- previously he'd been credited as "Robert Downey") played Julian, Clay's best friend and a struggling junkie.
Now: Robert Downey Jr. went on to struggle with his own addiction issues in the mid-90s, but now he's back and better than ever, playing Tony Stark/Iron Man in his own franchise and in the 'Avengers' films. He can also be seen in the upcoming film 'Chef,' which reunites him with his 'Iron Man' and 'Iron Man 2' director Jon Favreau.
James Spader, Rip
Then: Another member of the Brat Pack, James Spader played Rip, a drug dealer in 'Less Than Zero.' He also appeared opposite Andrew McCarthy in both 'Pretty in Pink' and 'Mannequin.'
Now: After appearing on 'The Office' in its final seasons, Spader returns to television this fall with the NBC drama 'Blacklist.' He will reunite with Robert Downey Jr. in 'Avengers: Age of Ultron,' as the voice of the villainous, sentient robot Ultron.
Michael Bowen, Hop
Then: Before appearing in 'Less Than Zero' as Hop, Michael Bowen appeared in the films 'Valley Girl' and 'Iron Eagle.'
Now: Bowen currently stars on the AMC series 'Breaking Bad' as Todd's anti-semitic uncle and criminal cohort, Jack. He also recently appeared in Quentin Tarantino's 'Django Unchained,' marking the fourth time he's worked with the director.
Brad Pitt, Uncredited Party Goer/Preppie Guy at Fight
Then: If you pay real close attention, you can spot Brad Pitt in the background during two scenes in 'Less Than Zero.' Pitt was an uncredited extra on the film, one of his first, and only made $38.
Now: Pitt recently starred in 'World War Z' and can be seen next in '12 Years a Slave' and 'The Counselor.' He is married to Angelina Jolie, with whom he has six children.