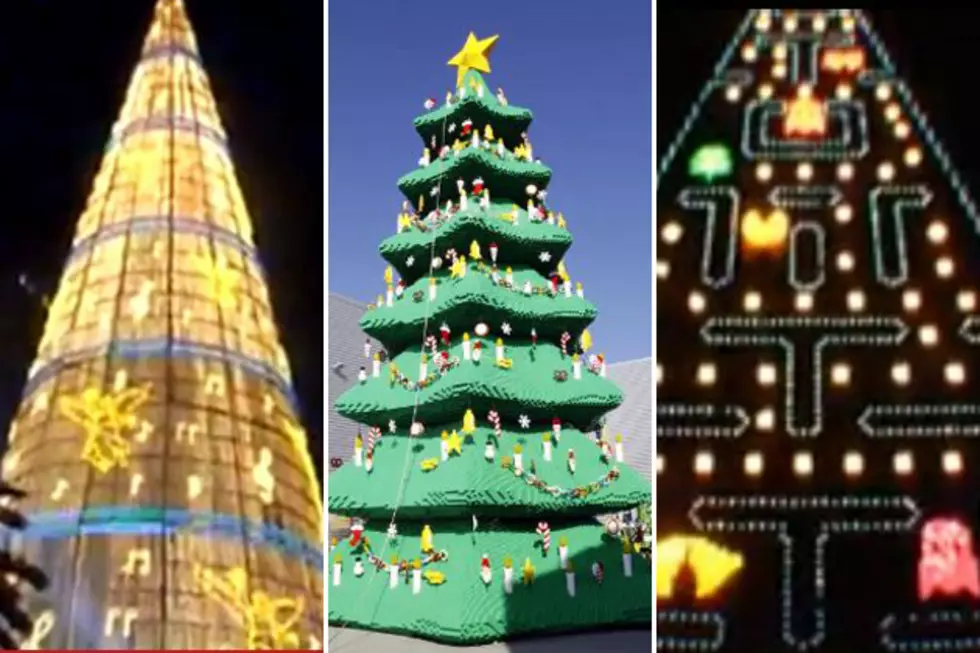 10 Extreme Christmas Trees
YouTube
Most people are familiar with the massive, and very impressive, Christmas tree that graces New York City's Rockefeller Center every year. This tree has come to symbolize the holiday season for millions of people, and is something of national icon, appearing as a backdrop in countless movies and television specials.
While New York's tree is indeed something to behold, there are quite a few other trees out there that boggle the imagination when it comes to creativity, location, price tag, size and the choice of decorations dangling from their boughs. Even the materials comprising some of these wonderful and slightly bizarre trees go against the traditional grain (one tree is made up of plastic bottles) of holiday decorating. So, with that in mind, let's take a look at some of the world's most amazing and extreme Christmas trees.
Mexico City's Gigantic Artificial Christmas Tree
Who says a spectacular Christmas tree has to be real? Pepsi Cola, the company behind the world's largest artificial Christmas tree -- located on Reforma Avenue in Mexico City -- knows fake tress can be pretty incredible, too. This giant, multi-colored creation blazes a massive array of blinking lights down upon the people staring up into its holiday magnificence.
The tree stands 367 feet tall, and is 114 feet wide. With more than 600 strobe lights, and 42 miles or thereabouts of small lights hung from its incredible bulk, this is one Christmas behemoth that demands you take notice.
Earth's Tallest Lego Holiday Trees
The Christmas Lego tree erected in California is actually the largest, coming in at about 30 feet in height, and utilizing more than 245,000 Lego bricks. Whoever put these Yuletide bad boys together must have had a lot of Christmas spirit, as well as plenty of patience.
A Giant Tree Made Out of Plastic Bottles
The good people living in Kaunas, Lithuania, not only made an enormous and beautiful tree that's easy on the eyes, they also made a Christmas tree that's easy on the environment. The town's giant holiday tree was built out of recycled Sprite plastic bottles. Around 40,000 bottles were artfully strung together in order to pull off this festive feat, and since Sprite bottles are already green, they're the perfect color for the Christmas season.
Brazil's Massive Floating Christmas Tree
A goliath structure that floats on water definitely belongs on a list of extreme Christmas trees. Rio de Janeiro plays host to the world's largest floating tree, which sits on a movable platform out in Rodrigo de Freitas Lagoon, towering 280 feet above the ocean.
This tree showers the surrounding area with light, coming from a mind-boggling number of Christmas bulbs. Every year, when this marvel is officially lit, the city launches an enormous fireworks display. This is one tree Santa will be sure to see when his sleigh passes overhead.
Madrid's Pac-Man Tree
How incredible would it be to have a huge tree that looks like an old arcade game? Apparently the citizens of Madrid, Spain, thought it would be pretty cool, and set about building a giant Pac-Man Christmas tree.
This pyramid-shaped structure is covered with animated (brought to life by color LEDs) ghosts, as well as Pac-Man himself, zipping around the structure, just like in the game of old. Next time, all they need to do is add a game console, so folks can actually play this arcade wonder.
The Largest Christmas "Tree" on the Planet
Sometimes a tree is only in the shape of a tree, but that doesn't mean it isn't a huge deal. The giant Christmas "tree" stretching across the face of Mount Ingino, in Central Italy, has garnered so much attention that the Pope himself was the official lighter one year.
The town of Gubbio proudly covers the mountain looming over them with massive light bulbs and thousands of feet of electric cables, thus bringing the mountainside to life, and creating the Guinness record for lights on a mountain, as well as a spectacular show for the people living and visiting below.
Abu Dhabi's $11 Million Dollar Tree
If you're looking for an extreme holiday decoration with a lot of "bling" hanging from its boughs, look no further than Abu Dhabi's $11 million dollar tree. This Christmas monstrosity (as far as price goes) was put together at the Emirates Palace Hotel. The 43-foot tree was loaded down with diamonds, gold, rubies and valuable gems from a nearby jeweler in order to make it one of the most expensive trees ever assembled.
The Tallest "Singing" Christmas Tree in America
One of the most amazing trees out there is built out of real people. Don't worry –– nothing macabre is going on here. America's tallest "singing" Christmas tree is actually composed of band and choir members from Mona Shores High School, located in Muskegon, Michigan.
This sonically-themed holiday tree stands almost 70 feet tall, and makes use of 300 students or so to achieve its glorious, and stirring, musical effect. If you're ever in Michigan around Christmastime, you should swing by Muskegon and check this singing tree out.
Prague's Old Town Square Christmas Tree
Every year, the Capital of the Czech Republic, Prague, sets up a mammoth, honest to goodness real life Christmas tree in Old Town Square. Tons of Czechs and flocks of tourists gather round and gawk at this marvelous tree. It's exceptionally large, and made even more beautiful by the grandeur and grace of the churches and buildings surrounding the square.
In addition to hosting the soaring tree, which rivals many spires and towers in height, Old Town Square is also home to a substantial Christmas market, where you can pick up holiday knickknacks, decorations and lots and lots of sweets.
The Rockefeller Center Tree
The Rockefeller Center Tree is a New York City holiday tradition that has been around for decades. The tree itself is decorated with well over 30,000 lights of varying colors, which sparkle and shine when the snow comes down on America's most vibrant city.
The Norway spruce usually selected for the honor of occupying Rockefeller Center comes in at different heights every year, sometimes reaching as far as 100 feet up into the air. No matter the height, this is one iconic Christmas tree that is sure to delight the crowds and put native New Yorkers and visitors alike in the holiday spirit.