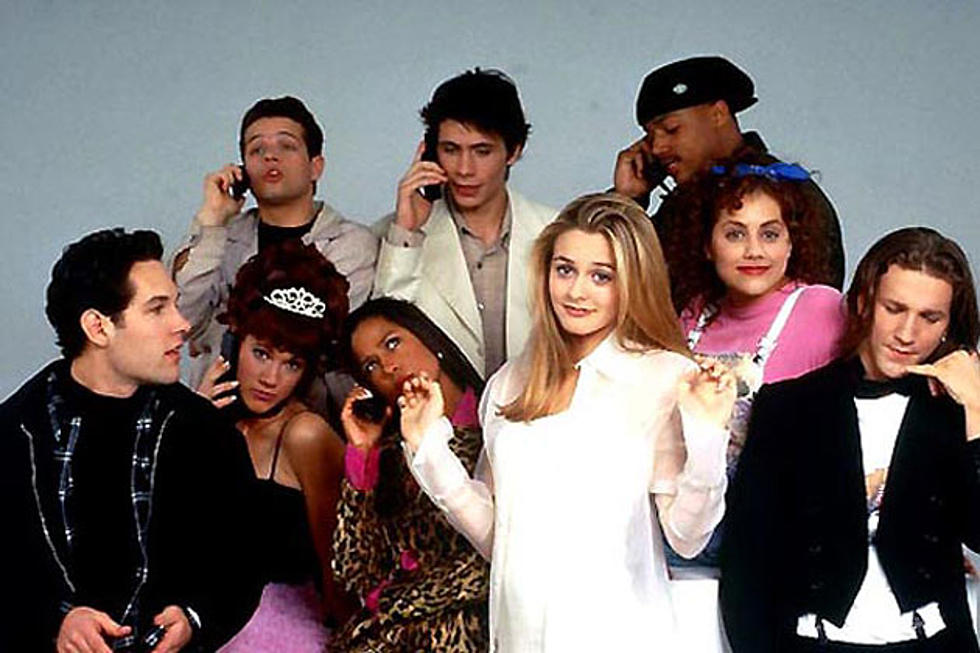 See the Cast of 'Clueless' Then and Now
Paramount
The teen comedy 'Clueless' gently parodied the lives of a group of fashion-obsessed rich kids attending Beverly Hills High School.
The film, written and directed by Amy Heckerling, was loosely based on the Jane Austen novel 'Emma' and was a surprise hit when it was released in 1995, thanks in part to its strong cast.
The film spawned a TV show, which ran for three seasons, and a series of books. See what the original cast of 'Clueless' is up to these days below.
Alicia Silverstone, Cher Horowitz
Then: Silverstone had her career-defining performance as spoiled rich girl Cher Horowitz in 'Clueless.' We first saw Silverstone in 1992 playing Kevin Arnold's dream girl on an episode of 'The Wonder Years.' The next year she made her film debut in 'The Crush.'
Now: The 37-year-old plays recurring character Eden on 'Suburgatory.' She is currently filming 'Gods Behaving Badly,' which also features Christopher Walken and Sharon Stone. Silverstone is known on the internet for her unusual real-life parenting techniques.
Paul Rudd, Josh
Then: In 'Clueless,' Rudd played Cher's eventual love interest (and step-brother -- gross!) Josh. While Rudd had seen acting success on 'Sisters' and as the star of the short-lived TV series 'Wild Oats,' 'Clueless' was very much his breakout role.
Now: Rudd has established himself as one of Hollywood's go-to male comedic leads, starring in such movies as 'Role Models,' 'I Love You Man' and 'Our Idiot Brother.' and the Judd Apatow film 'This is 40.'
Stacey Dash, Dionne Davenport
Then: Dash was 28 when she played Cher's best friend Dionne Davenport in 'Clueless.' She actually ended up playing the high school character until she was 32 because she took up the role in the 'Clueless' TV series that followed the movie.
Now: Dash recently starred in the film 'Dysfunctional Friends' and had a recurring role on 'Single Ladies.' Before the 2012 presidential election, she caused quite the Twitter kerfuffle by coming out in support of Mitt Romney.
Brittany Murphy, Tai

Then: In 'Clueless,' Brittany Murphy was Tai, who came to Beverly Hills High a rough-around-the-edges tomboy and was transformed by Cher and Dionne into a stylish member of the in-crowd. It was the first big movie role for Murphy, who had cut her teeth on TV shows such as 'Murphy Brown,' Party of Five' and 'Almost Home.'
Now: Murphy died in December of 2009 of pneumonia, anemia and drug intoxication. She was 32. In her later career, she was known for movies like 'Sin City' and for her voice work on 'King of The Hill.'
Elisa Donovan, Amber

Then: Donovan made her movie debut as Cher's bitter rival Amber in 'Clueless.' She also played the part in the 'Clueless' TV series before snagging a spot on the show 'Sabrina, The Teenage Witch.'
Now: Between 2009 and 2011 Donovan played the title character in the web series 'In Gayle We Trust,' and she will appear in the upcoming TV movie 'The Dog Who Saved The Holidays.' Last year, the 42-year-old married her boyfriend Charlie Bigelow, with whom she has a young daughter.
Jeremy Sisto, Elton

Then: You might remember Sisto as Elton, an arrogant rich kid who the gang wants to set Tai up with. (He was the "rollin' with the homies" guy.) The 20-year-old had made his film debut four years earlier, playing Roberto in the ensemble piece 'Grand Canyon.'
Now: Sisto has had long runs as Billy Chenowith on 'Six Feet Under' and Detective Cryus Lupo on 'Law & Order.' The latest role for the 39-year-old is the lead on the comedy 'Suburgatory' where he recently reunited with Alicia Silverstone.
Donald Faison, Murray

Then: Faison played Murray, who would constantly fight and then make up with his girlfriend Dionne. He took the role to the 'Clueless' TV show, and he's been a constant presence on the small screen ever since.
Now: Faison is best known for starring alongside real-life BFF Zach Braff on the medical comedy 'Scrubs.' Once that show ended in 2010, he snagged a starring role on the TV Land sitcom 'The Exes.'
Justin Walker, Christian Stovitz

Then: Walker is best remembered as Christian, who Cher crushes on and tries to seduce before realizing he is probably gay. It was Walker's movie debut, and he followed it up with roles in 'Last Resort' and 'Glacier Falls.'
Now: Walker's last film credit is 2005's 'Take Out.' These days, Walker owns Teddy Teadle's Grill in Rancho Mirage, California.
Breckin Meyer, Travis

Then: Meyer brought his signature laid-back vibe to the role of the kind-hearted skater who liked Tai for who she was. The then 20-year-old had been acting since he was 11, and had been a series regular on the short-lived 'The Jackie Thomas Show.'
Now: The 39-year-old currently stars on 'Franklin & Bash.' He is also a voice actor on 'Robot Chicken.'