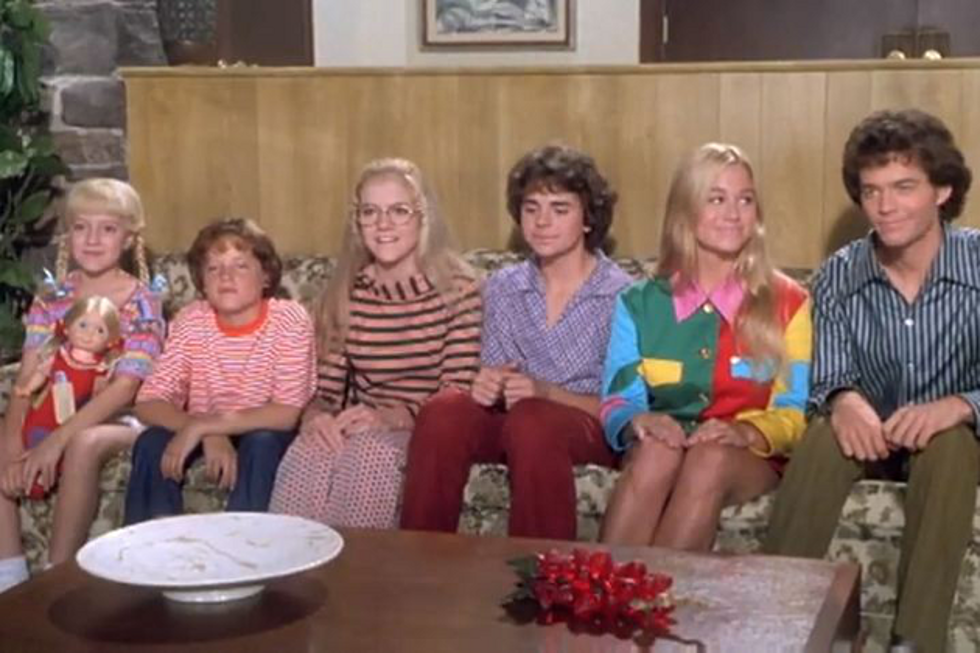 See the Kids From 'The Brady Bunch Movie' Then and Now
Paramount Pictures
While never a huge hit during its original run, 'The Brady Bunch' just grew and grew in pop cultural significance after getting canceled in 1974. So to cash in on the series' unusual trajectory its creators reunited the original cast for various TV movies, variety shows, spin-offs and TV specials throughout the '70s and '80s. Then, finally, in 1995, they rebooted the squeaky clean franchise with all new actors.

Thus was born 'The Brady Bunch Movie.' By this time the Bradys had become the embodiment of the '70s and the premise of the feature film was that the blended family was still stuck in that decade in terms of fashion and overall sensibilities, whereas the rest of the world had progressed to the politically correct '90s.
While the movie didn't exactly wow critics, it was popular enough with audiences that a sequel -- 'A Very Brady Sequel' -- hit theaters the next year. The same six actors played the Brady kids in each of those films. Catch up on what these "other" Bradys are up to these days below.
Christopher Daniel Barnes, Greg Brady
Then: Before snagging the plum role of Greg Brady in 'The Brady Bunch' movie, Christopher Daniel Barnes had an extensive list of credits, including a stint as a regular on the late '80s TV shows 'Starman' and the 'Family Ties' spin-off 'Day By Day' (In an odd bit of prescient casting, Christopher's character on that show was obsessed with the Bradys and even meets the original cast in a dream sequence), which featured a pre-'Seinfeld' Julia Louis-Dreyfus.
Now: Perhaps Barnes' most famous role has been one in which you don't see his face. In 1994, he started doing the voice of Spider-Man for the animated TV series 'Spider-Man.' While Barnes hasn't appeared on screen in almost a decade, he continues to voice the web-slinger, most recently in the video game Spider-Man: Edge of Time. He also lends his pipes to other video games, such as Kingdom Hearts II and voiced Prince Charming in Disney's series of direct-to-video 'Cinderella' movies.
Christine Taylor, Marcia Brady
Then: You need a very pretty young lady to play the famously perfect Marcia Brady, and classically beautiful Christine Taylor fit the bill. Before going Brady, Taylor was best known for starring as lifeguard Melody Hanson on the Nickelodeon series 'Hey, Dude.'
Now: Taylor went on to prominent guest star roles on some of the greatest sitcoms of our times -- 'Seinfeld,' 'Arrested Development' and 'Friends,' to name a few. She also showed off her comedic chops with husband Ben Stiller in 'Zoolander' and 'Dodgeball.' Taylor's acting career has slowed down a bit lately, although she did appear in the 2012-13 web series 'Burning Love,' produced by Stiller. The 42-year-old lives in New York with Stiller and their two children.
Jennifer Elise Cox, Jan Brady
Then: While Jennifer Elise Cox's role as Jan Brady was her first on-screen credit, the-then 25-year-old was already a seasoned actress when she played the perpetually overshadowed middle child. Previously, the New York-born Cox had done commercials and appeared in the operas 'Don Giovanni' and 'Madame Butterfly.'
Now: This Jan has been able to step out of Marcia's shadow, as Cox has enjoyed a successful acting career since 'The Brady Bunch Movie,' appearing on Lisa Kudrow's comedy series 'Web Therapy.' Before that, the 44-year-old had a role on the sitcom '10 Items or Less' and made guest appearances on shows like 'Nip/Tuck' and 'Numb3rs.'
Paul Sutera, Peter Brady
Then: Paul Sutera played Peter Brady, middle boy and the clumsiest of the blended clan. You might also recognize him from his minor roles in 'Problem Child 2' and 'The Adventures of Superboy.'
Now: Sutera's acting career ended in the mid-2000s, but he is still very much in the showbiz game. These days, the 34-year-old is a reality TV producer. Among his credits are 'Road Rules,' 'The Marriage Ref,' 'Shark Tank' and 'Ice Road Truckers.'
Olivia Hack, Cindy Brady
Then: The Beverly Hills-born Hack was 11 when she played youngest daughter Cindy Brady in 'The Brady Bunch Movie.' 'Star Trek' fans may also remember her as Captain Jean-Luc Picard's daughter on 'Star Trek: Generations.' After doing the 'Brady' movies, she guest-starred on shows like 'Party of Five' and 'Gilmore Girls.'
Now: Like her movie step-brother Christopher Daniel Barnes, Hack is an accomplished voice actor. She has voiced Chloe on 'Bratz,' Rhonda Wellington Lloyd on 'Hey Arnold,' Irene on 'Blood+' and Ty Lee on 'Avatar: The Last Airbender.' She also got to reprise her role as Cindy Brady on an episode of 'Family Guy.' When Hack isn't behind the mic, she's running Salon Atmosphere, a hair and beauty salon she owns in Long Beach, California.
Jesse Lee Soffer, Bobby Brady
Then: Jesse Lee Soffer went by Jesse Lee when he played Bobby Brady in 'The Brady Bunch Movie.' At 10, he was the youngest actor playing a Brady kid.
Now: Soffer stopped acting as a teenager, but then returned in a big way in 2004 as Will Munson on the soap 'As The World Turns,' a role which earned him three Daytime Emmy nominations. Since ATWT's cancellation in 2010, the 28-year-old has appeared in the Justin Timberlake movie 'In Time' and on the TV dramas 'The Mentalist,' 'Chicago Fire' and 'Rizzoli & Isles.'