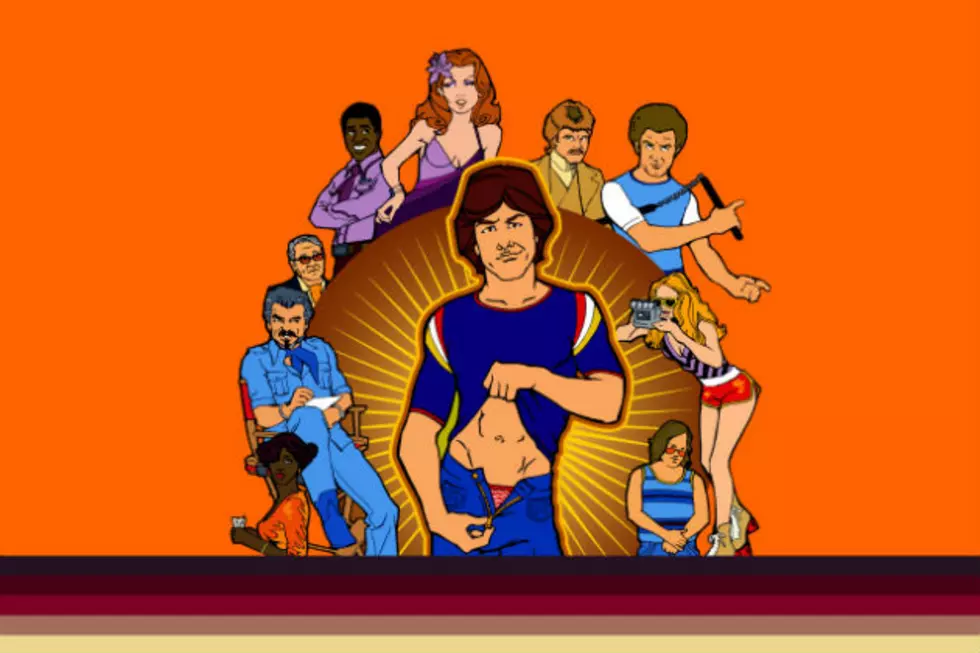 See the Cast of 'Boogie Nights' Then and Now
New Line
In 1997, Paul Thomas Anderson made Mark Wahlberg a huge, huge star with the film 'Boogie Nights.' The film followed a dishwasher who uses his very, uh, sizable talents to enter the world of the adult film industry. While his star quickly rises, his life -- and the lives of his colleagues and friends -- begins to unravel. We take a look back at the cast of this film 16 years later (if you can believe it) to see what they're up to now.
Mark Wahlberg, Dirk Diggler
Then: The role of Dirk Diggler was originally offered to Leonardo DiCaprio, who had to turn it down because he already signed on for 'Titanic.' It was actually DiCaprio who suggested his friend Mark Wahlberg for the part. Joaquin Phoenix also turned the role down, due to concerns over portraying a porn star.
Now: Wahlberg recently appeared in the films '2 Guns' and 'Pain and Gain,' and can be seen next in 'Transformers 4' and 'Ted 2.' And though Joaquin Phoenix declined to work with Anderson at the time, he went on to star in the director's critically acclaimed 2012 film 'The Master.'
Julianne Moore, Amber Waves
Then: The role of Amber Waves -- porn star, drug addict, and mother battling for visitation with her estranged child -- was originally offered to Marisa Tomei. When she turned it down, it went to Julianne Moore.
Now: Moore went on to reunite with Anderson for the film 'Magnolia,' and recently portrayed Sarah Palin in the HBO film 'Game Change. She also starred as another mother battling over her child in the indie film 'What Maisie Knew.'
Burt Reynolds, Jack Horner
Then: Warren Beatty and Sydney Pollack were both offered the role of porn director Jack Horner before the role went to legendary actor Burt Reynolds. To research the role, Reynolds visited porn sets and spoke with workers in the industry. After seeing the completed film, Reynolds regretted taking the role and fired his agent -- though he went on to win a Golden Globe for it and was nominated for an Academy Award.
Now: Reynolds doesn't act as much these days -- he appeared in a 2011 made-for-TV movie called 'Reel Love,' and has lent his voice to the video game 'Saints Row: The Third' and the animated comedy 'Archer.'
Don Cheadle, Buck Swope
Then: Samuel L. Jackson was offered the role of Buck Swope, a porn star and stereo salesman who hopes to open his own store. The part eventually went to Don Cheadle.
Now: Cheadle played Rhodey in both 'Iron Man 2' and 'Iron Man 3' (replacing Terrence Howard, who had the role in the first film), and currently appears on the Showtime series 'House of Lies.'
John C. Reilly, Reed Rothchild
Then: John C. Reilly, who previously appeared in Anderson's first film, 'Hard Eight,' played Reed Rothchild, Dirk's colleague and best friend.
Now: Reilly went on to appear in Anderson's 'Magnolia,' and can be seen next in the films 'Anchorman 2: The Legend Continues' and 'Life After Beth.' He's also been cast in Marvel's 'Guardians of the Galaxy.'
William H. Macy, "Little" Bill Thompson
Then: William H. Macy's agent discouraged him from reading the script, but Macy fell in love with it and decided to be in the film anyway. Macy plays "Little" Bill Thompson, assistant director to Jack Horner, and a man distraught over his wife's affairs. His wife is actually played by porn legend Nina Hartley.
Now: Macy also went on to appear in 'Magnolia,' and can be seen next in the films 'A Single Shot,' 'Trust Me,' and 'Rudderless.' He currently stars in the Showtime drama series 'Shameless.'
Heather Graham, Brandi/"Rollergirl"
Then: Heather Graham played Rollergirl, a high school dropout and porn star who never takes off her rollerskates. Gwyneth Paltrow was initially offered the role, but turned it down.
Now: Graham recently reprised her role from 'The Hangover' in 'The Hangover Part 3,' and appeared in the films 'Compulsion' and 'Behaving Badly.' In 2012, she starred in another porn-centric film, 'About Cherry' -- this time, she played a director.
Philip Seymour Hoffman, Scotty J.
Then: Jack Black was considered for the role of Scotty J., a gay boom operator for Jack Horner's movies and a groupie to the porn stars. The part went to Philip Seymour Hoffman, who previously starred in Anderson's 'Hard Eight.'
Now: Hoffman has appeared in all but one of Anderson's films ('There Will Be Blood' being the exception), and was nominated for both an Academy Award and Golden Globe for his performance in 'The Master.' He can be seen next in 'The Hunger Games: Catching Fire' and 'A Most Wanted Man.'
Alfred Molina, Rahad Jackson
Then: Aldred Molina played Rahad Jackson, a big time drug dealer whom Dirk, Reed, and their criminal buddy Todd try to rip off. The character of Rahad is based on real life Hollywood gangster Eddie Nash, and the scenario in the film is taken from an incident when legendary and tragic porn star John Holmes (who inspired the character of Dirk) and his buddies robbed Nash, inciting Nash to retaliate by murdering Holmes' cohorts. That story was also used as the basis for the film 'Wonderland,' in which Val Kilmer played Holmes.
Now: Molina recently lent his voice talents as Professor Knight in 'Monsters University,' appeared in an episode of 'Drunk History' as Sir Arthur Conan Doyle, and guest-starred on episodes of 'Monday Mornings' and 'Harry's Law.'
Nicole Ari Parker, Becky Barnett
Then: Nicole Ari Parker played porn star Becky Barnett.
Now: Parker went on to have a lead role in the 'Soul Food' TV series, which ran from 2000 to 2004. She appears on the series 'The Secret Lives of Husbands and Wives,' and has starred in the films 'Black Dynamite' and 'Welcome Home, Roscoe Jenkins.'
Thomas Jane, Todd Parker
Then: Thomas Jane played Todd Parker, one of Dirk and Reed's ne'er-do-well criminal friends who helps them try to rip off Rahad Jackson.
Now: Jane has appeared in the films 'The Punisher,' 'The Mist,' and 'Scott Pilgrim vs. the World,' and starred on the TV series 'Hung.' He had a small role in Anderson's 'Magnolia,' and is married to actress Patricia Arquette.
Melora Walters, Jessie St. Vincent
Then: Melora Walters played Jessie St. Vincent, a porn star who marries Buck Swope and becomes pregnant with his baby. The studio wanted a bigger name for the role and suggested Patricia Arquette, who would later marry Walters' 'Boogie Nights' co-star Thomas Jane. Anderson got his way and the role went to Walters, who previously appeared in his film, 'Hard Eight.'
Now: Walters also appeared in 'Magnolia' and had a small role as the voice of a band member in 'The Master.' She currently appears in the indie drama 'Short Term 12.'