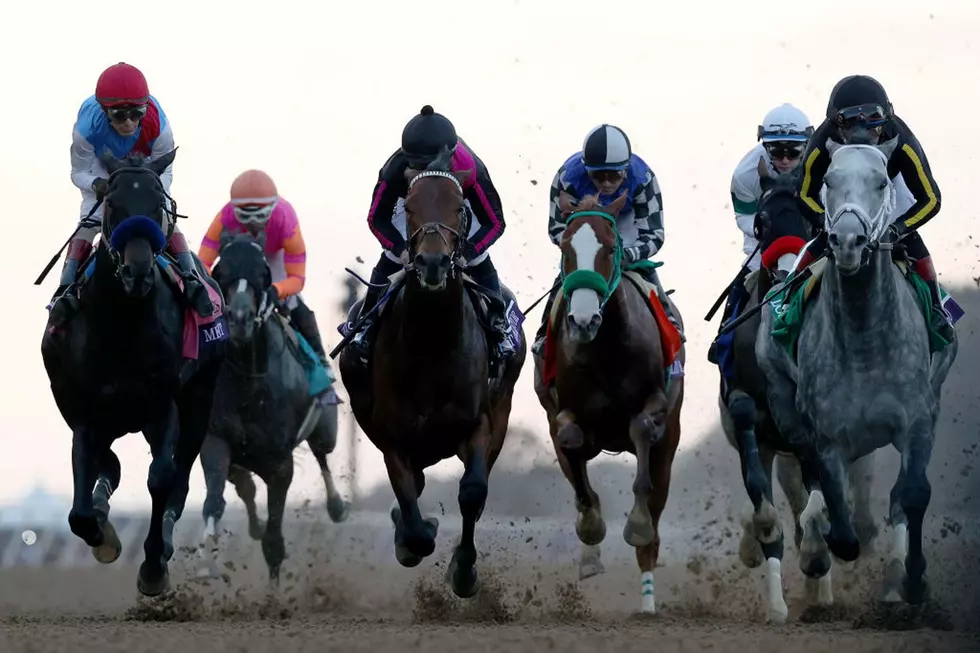 Which Jockeys Won the Most Money Around the Tracks in 2021?
Getty Images
It was a fantastic season all around the country's racetracks, with fans and bettors moving through the turnstiles in record numbers.
You just have to look at the Saratoga six-week meet to see the total take and the actual number of people turning up to the tracks to see that horse racing is back in a big way.
Experts of Horse.Bet are now expecting 2022 to be even better, as the country comes out of the pandemic lockdowns.
So who were the big winners from 2021 (other than the tracks and fans, of course)?
Knicks Go won the Breeders' Cup Classic over Essential Quality, the 2021 Belmont Stakes, Travers Stakes, and 2020 Breeders' Cup Juvenile. So it makes sense that the two jockeys on those two horses had a massive campaign as well.
Along with the jockeys, Brad H. Cox had another massive campaign, training one of the Triple Crown races and finishing one-two in the Breeders' Cup Classic, accounting for nearly $30 million. Cox's horses won over 26 percent of their races (239 of 902), with 163 places and 130 show finishes, which was good for over $33,000 per start, by far the best of his career.
But enough about him: let's take a look at the top five jockey finishers in 2021, with data from Bloodhorse.com.
Joel Rosario, total earnings in 2021: $32,159,053
Rosario won 21 percent of his starts this year, which was 222 wins in 1,040 starts, with 154 places and 147 shows. He was also the winning jockey in the biggest race of the year, the Breeders' Cup Classic, which accounted for a large chunk of his money in 2021.
Irad Ortiz, Jr., total earnings in 2021: $28,027,838
Ortiz, Jr. had a monster campaign and is only getting better. The scary thing is, he has not yet reached his 30th birthday. Ortiz, Jr. had a whopping 322 winners in 2021 (in 1,396 starts), the most of any top jockey, for a winning percentage of 23 percent. He earned over $20,000 per start, with 269 places and 196 shows as well, and finished in the top three in 56 percent of his races.
Luis Saez, total earnings in 2021: $22,410,594
Cox was really the winner this season, as his horses dominated the scene. But Saez won big, too, thanks to Essential Quality and his win in the Belmont Stakes. Saez was also the hardest working jockey in the game, starting 1,471 races, and winning 248 of them, with 231 places and 196 shows.
Jose L. Ortiz, total earnings in 2021: $22,410,594
With 1,276 starts and 234 wins, Ortiz won nearly 20 percent of his mounts. He also picked up 209 places and 196 shows, which was 50 percent of his mounts.
Amazingly, the second, third, and fourth place jockeys on this list all had 196 show finishes.
Flavien Prat, total earnings in 2021: $22,076,854
Prat was on Rombauer in the Preakness Stakes, leading his horse across the finish line first to win one of the three Triple Crown races this season. In his 860 starts in 2021, Prat had 234 wins (which was good for a year-best 27 percent winning percentage), 189 places, and 126 show finishes. Prat also had the highest percentage of WPS among the top jockeys, at 64 percent.