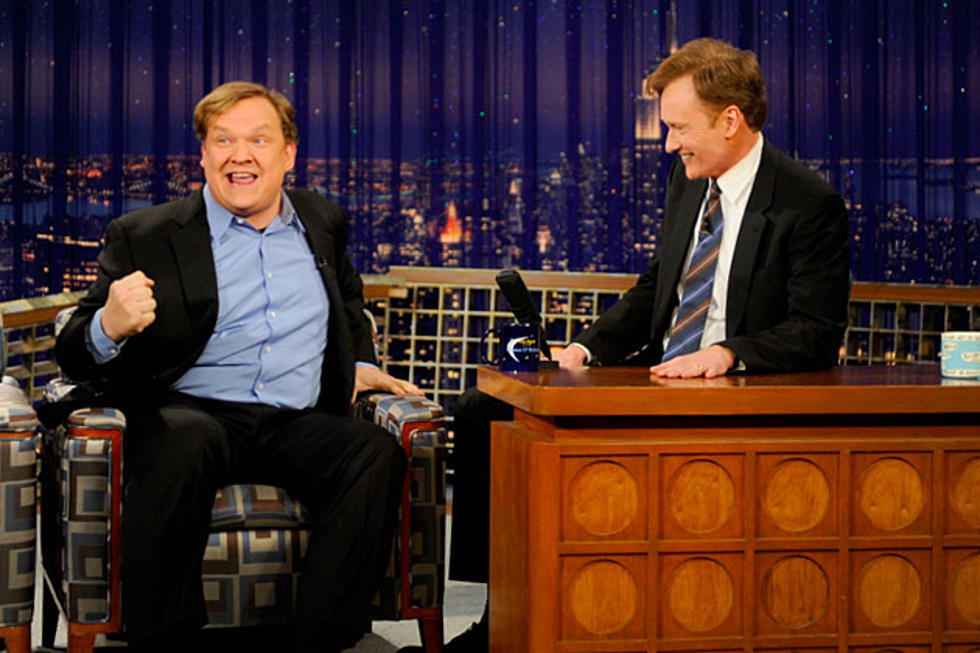 'Late Night with Conan O'Brien' Then and Now
NBC
It's hard to believe that Conan O'Brien has been making us laugh on late night television for 20 years. Though he currently hosts 'Conan' every weeknight on TBS, his first and most long-lasting show, 'Late Night with Conan O'Brien,' ran on NBC for 16 years -- from 1993 to 2009. Along with his pal Andy Richter and band leader Max Weinberg, Conan has been bringing wacky, fresh humor to late night TV for longer than some of our readers have been alive. Today we take a look back at Conan, his former writers, and some of the celebrities that appeared on the show before they were famous, to see where they were then and how far they've come now.
Conan O'Brien
Then: Harvard graduate Conan O'Brien got his start working as a writer on 'SNL' and 'The Simpsons' before NBC gave him his own late night hosting gig with 'Late Night with Conan O'Brien.' His audition took place on the stage of 'The Tonight Show,' with Jason Alexander and Mimi Rogers as his guests, and the audience made up of 'Simpsons' writers.
Now: When Jay Leno announced he was leaving 'The Tonight Show,' O'Brien and NBC negotiated a contract in which O'Brien would take over when Leno left in 2009. Leno got his own primetime show, and ratings for both shows were wobbly. After just six short months as host of 'The Tonight Show,' O'Brien negotiated an exit from his contract and went to TBS, where his 'Conan' show has been a hit for the last few years.
Andy Richter
Then: 'SNL' writer Robert Smigel (who was also producing 'Late Night with Conan O'Brien') met Andy Richter at an 'SNL' after-party and invited him to join the writing staff of 'Late Night.' A few weeks into the gig, Richter was upgraded to Conan's on-screen sidekick, and remained by his side until 2000.
Now: Following his departure, Richter had roles in 'Elf' and 'Blades of Glory,' as well as a recurring part on 'Arrested Development.' When O'Brien moved to 'The Tonight Show' in 2009, Richter returned, and has been his sidekick again ever since.
Max Weinberg
Then: Max Weinberg joined Bruce Springsteen's E Street Band as the drummer in 1974, but in 1989, Springsteen called Weinberg to let him know he was dissolving the E Street Band. Weinberg started his own record company, performed with other bands and on Broadway, and then in 1993, he met Conan O'Brien on a sidewalk and shared some ideas for music for O'Brien's new late night show. In a few short days, Weinberg culled together the Max Weinberg 7, and the rest is history.
Now: Weinberg stuck with O'Brien throughout 'Late Night' and 'The Tonight Show,' but parted ways when O'Brien moved to TBS for 'Conan.' His bandmate Jimmy Vivino now leads the band, known as Jimmy Vivino and the Basic Cable Band. In 1999, Bruce Springsteen reunited the E Street Band, and Weinberg has been occasionally performing with them ever since.
Robert Smigel
Then: 'SNL' writer Robert Smigel became friends with Conan O'Brien when the pair worked together on the long-running NBC sketch series. When O'Brien landed the 'Late Night' gig, Smigel followed as his head writer. It was on 'Late Night' that Smigel debuted the very memorable Triumph, the Insult Comic Dog, a character that became an instant and enduring classic. You can see a young Smigel alongside fellow writer Louis C.K. in the video above, from a December 1993 episode in which the pair appeared as dog experts.
Now: Smigel left 'Late Night' in 2000, and continued to occasionally write for 'SNL' -- his most notable contribution, the 'Saturday TV Funhouse' series of segments, stopped recurring sometime in 2008. He has worked with former 'SNL' star Adam Sandler over the years, and recently produced and lent his voice talent to 'Hotel Transylvania.'
Louis C.K.
Then: Stand-up comedian Louis C.K. got his career start writing for shows like 'The Late Show with David Letterman,' 'The Chris Rock Show,' and, of course, 'Late Night with Conan O'Brien.' In addition to writing for the show, C.K. occasionally performed some stand-up. You can watch his October 1993 appearance in the clip above. C.K. was nominated for an Emmy for his writing work on the show, though he left in 1994 after just one year.
Now: C.K. has gone on to find immense success as a stand-up comedian, releasing five hour-long comedy specials, including the recent HBO special 'Oh My God.' He currently writes, produces, directs, and stars in (and sometimes edits) his own half-hour FX comedy-drama series, 'Louie,' which will return for its fourth season in 2014.
Bob Odenkirk
Then: Like O'Brien and Smigel, Bob Odenkirk wrote for 'SNL' before writing for 'Late Night with Conan O'Brien.' He remained on the writing staff from 1993 to 1994 before moving on to join the writing staff and cast of the short-lived 'Ben Stiller Show.' From 1995 to 1998, Odenkirk and fellow performer/writer David Cross had their own show on HBO, 'Mr. Show.' Like 'Late Night,' 'Mr. Show' helped propel the careers of many of Odenkirk and Cross' own friends and colleagues. You can see Odenkirk and Cross as they appeared on 'Late Night' in 1997 in the clip above.
Now: Odenkirk has a recurring role on 'Breaking Bad' as Walt's lawyer, Saul Goodman, and there's been talk of a spin-off show for his character in the near future. He also recently appeared in the indie film 'The Spectacular Now,' and on an episode of 'Drunk History.' This fall, he reunites with his 'Mr. Show' co-star and writing partner David Cross for a new book and comedy tour.  
Amy Poehler
Then: In the early 90s, Amy Poehler befriended Tina Fey while both were working for the legendary Second City improv theatre. Poehler joined the Upright Citizens Brigade and the group landed a gig on 'Late Night with Conan O'Brien,' where several of them had recurring guest spots. Poehler's most famous recurring role was as Stacy, Andy Richter's obsessive little sister. You can see one of her many appearances in the video above.
Now: Poehler went on to join the cast of 'SNL' in 2001 alongside friend and fellow Second City alum Tina Fey. Upon leaving 'SNL' in 2008, Poehler went on to star in the NBC sitcom 'Parks and Recreation.' In addition to starring in the series, she's written a few of the episodes.
Jack McBrayer
Then: From 1995 to 2002, Jack McBrayer worked as an administrator at the Second City and IO Theater under Tina Fey, but he caught his big break in 2002 when he landed a gig on 'Late Night' as a variety of recurring characters, often making fun of his own southern upbringing. You can see him in the video above as the audience member who yells "Woo!" at everything.
Now: McBrayer's experiences working under Tina Fey at Second City prepared him for his most notable work in the role of Kenneth Parcell, the NBC studios page on Fey's sitcom, '30 Rock.' He's also recently appeared in the films 'Wreck-It Ralph' (as the voice of Fix-It Felix) and 'The Campaign.'
Rob Corddry
Then: The actor made several appearances on 'The Upright Citizens Brigade' show on Comedy Central and as various characters on 'Late Night with Conan O'Brien' at the start of his career. You can check him out above (around the 2:13 mark) on 'Late Night.'
Now: Corddry went on to become a correspondent on 'The Daily Show' from 2002 to 2007, and currently writes, stars in, and sometimes directs episodes of 'Children's Hospital' on Adult Swim. He appeared in the recent films 'Warm Bodies,' 'Pain and Gain,' and 'In a World,' and will reprise the role of Lou in the upcoming 'Hot Tub Time Machine 2.'
Ellie Kemper
Then: After graduating from Princeton, Ellie Kemper went on to perform in improvisational sketch groups and landed a recurring gig on 'Late Night with Conan O'Brien,' appearing in various sketches. Kemper also wrote for The Onion. In the video above, she stars in a 'Late Night' sketch about the iPhone.
Now: Kemper landed her first big role as Erin on later seasons of 'The Office,' and has appeared in the film 'Bridesmaids' and on fellow former 'Office' star Mindy Kaling's Fox sitcom 'The Mindy Project.'