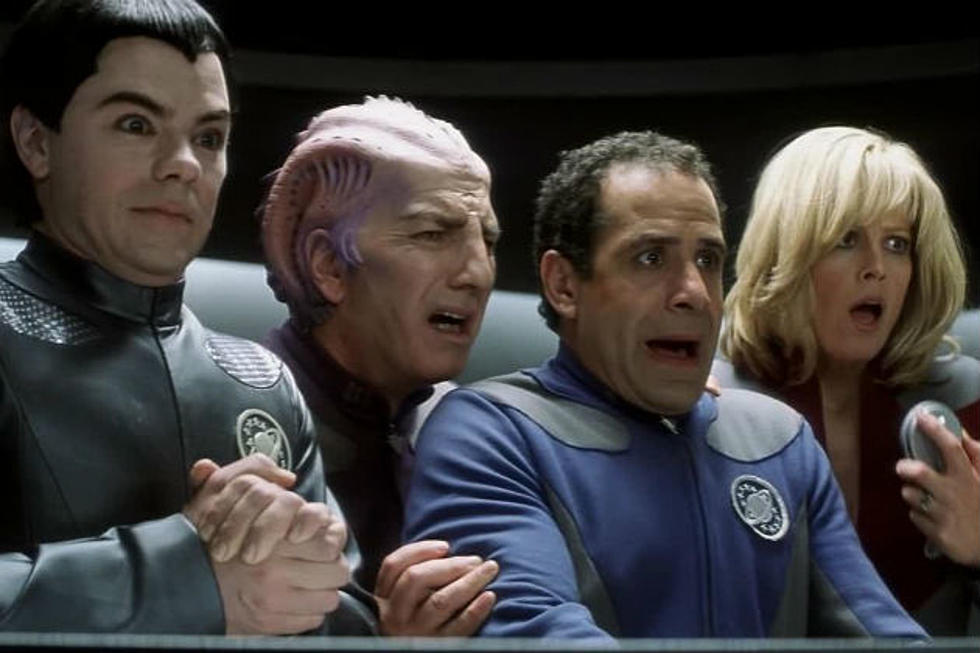 See the Cast of 'Galaxy Quest' Then and Now
DreamWorks
In 'Galaxy Quest,' a group of actors from a popular sci-fi TV show (akin to 'Star Trek) get sucked into a real life adventure when aliens come to them asking for help to defend themselves against an evil alien overlord. Though the sci-fi parody had an awesome cast, it wasn't a huge hit at the box office, but found a cult following when it was released on home video. 14 years later, we take a look back at the cast of this gem and see what they're up to now.
Tim Allen, Jason Nesmith
Then: Tim Allen, best known for his previous role on the sitcom 'Home Improvement,' played Jason Nesmith, the actor who starred as Commander Peter Quincy Taggart in the fictional show 'Galaxy Quest.'
Now: Allen currently stars on the ABC sitcom 'Last Man Standing.' He also voices Buzz Lightyear in the 'Toy Story' films and animated shorts, and recently appeared in the film 'Geezers.'
Sigourney Weaver, Gwen DeMarco
Then: Sigourney Weaver was already a sci-fi mainstay thanks to her role in the 'Alien' films. In 'Galaxy Quest,' she plays Gwen DeMarco, the actress who starred as dumb blonde Lieutenant Tawny Madison in the fictional series.
Now: Weaver recently appeared in the horror films 'The Cabin in the Woods' and 'Red Lights,' and stars on the drama series 'Political Animals.' She'll return to sci-fi (and her 'Aliens' director James Cameron) for the upcoming 'Avatar' sequels.
Alan Rickman, Alexander Dane
Then: Alan Rickman played Alexander Dane, a trained Shakespearean British actor who abhors his involvement with the 'Galaxy Quest' TV show and is slower to come around to helping the Thermians -- the alien race who ask for the cast's help. Dane played Dr. Lazarus, an alien who often spouts the catchphrase, "By Grabthar's hammer, by the suns of Warvan, you shall be avenged!"
Now: Like his fictional counterpart, Rickman is also a classically trained stage actor and former member of the Royal Shakespeare Company. He recently starred in 'Gambit' and 'The Butler,' and can be seen next as famed club owner Hilly Kristal in the film 'CBGB.'
Tony Shalhoub, Fred Kwan
Then: Tony Shalhoub played Fred Kwan, the actor who starred as Tech Sergeant Chen on the show. Kwan is kind of apathetic and isn't easily shaken, but later falls in love with the Thermian alien Laliari.
Now: Shalhoub played the lead role on the USA series 'Monk,' which ran from 2002 to 2009. He recently starred in the films 'Pain and Gain' and 'Movie 43,' and voices Luigi in Pixar's 'Cars' movies. He is married to actress Brooke Adams, with whom he's starred in several films.
Sam Rockwell, Guy Fleegman
Then: Sam Rockwell played Guy Fleegman, an actor who appeared as a minor character in one episode of the fictional 'Galaxy Quest' series. Like the "red shirts" on 'Star Trek,' Fleegman only appeared to be killed off. Rockwell based his performance on Bill Paxton's in 'Aliens.'
Now: Rockwell has appeared in 'Iron Man 2' and the sci-fi indie 'Moon,' and recently starred in 'Seven Psychopaths' and 'The Way, Way Back.' He can be seen next in 'A Single Shot.' He has been in a relationship with his 'Iron Man 2' co-star Leslie Bibb since 2007.
Daryl Mitchell, Tommy Webber
Then: Daryl Mitchell played Tommy Webber, who in turn played Lieutenant Laredo, a "child prodigy" character. Mitchell previously appeared in the 'House Party' films and had a hip-hop career in the 80s under the name Groove B. Chill.
Now: Mitchell was paralyzed from the waist down in a motorcycle accident in 2001, but received immense support from fellow actors Denzel Washington and Chris Tucker to help him continue his career. He has appeared in the film 'Inside Man' and has made guest appearances on 'Traffic Light' and 'The Cleveland Show.'
Enrico Colantoni, Mathesar
Then: Enrico Colantoni played Mathesar, the Thermian alien leader who believes the show 'Galaxy Quest' is real and asks the actors to help his kind escape an evil alien overlord.
Now: Colantoni is known for portraying Keith Mars, father of Veronica on the CW series 'Veronica Mars.' He will reprise the role for the upcoming film. He recently appeared in 'Contagion' and had a recurring role on 'Person of Interest.'
Missi Pyle, Laliari
Then: Character actress Missi Pyle landed her first main role in a feature film as Laliari, a Thermian who falls in love with Fred Kwan. Pyle's role was expanded when the producers realized that Sigourney Weaver was the only woman with a substantial role in the film.
Now: Pyle has appeared in the films 'Dodgeball,' 'Charlie and the Chocolate Factory,' and more recently, 'The Artist.' She has also guest-starred on episodes of 'Don't Trust the B---- in Apartment 23,' '2 Broke Girls,' and 'Warehouse 13.' In addition to acting, Pyle is a musician and one-half of the country music duo Smith & Pyle, with fellow actress Shawnee Smith, known for her role in the 'Saw' franchise.
Justin Long, Brandon
Then: Justin Long made his big screen debut as Brandon, a super fan of the 'Galaxy Quest' show -- basically the film's version of a Trekkie. Brandon knows the show better than the cast and is key to helping them during the film's climax.
Now: Long recently starred in the films 'Going the Distance' and 'For a Good Time, Call...,' and he appeared in four episodes of the Fox sitcom 'New Girl' during the show's first season. Long will reunite with his 'Galaxy Quest' co-star Enrico Colantoni for the upcoming 'Veronica Mars' movie.
Rainn Wilson, Lahnk
Then: Like Long, Rainn Wilson also made his acting debut in 'Galaxy Quest' -- he played Lahnk, a Thermian engineer.
Now: Wilson is known best for playing Dwight Shrute on NBC's sitcom 'The Office,' which ended in 2013 after nine seasons. He has appeared in the films 'Super' and 'Hesher,' and popped up on handful of episodes of 'Tim and Eric Awesome Show, Great Job!'