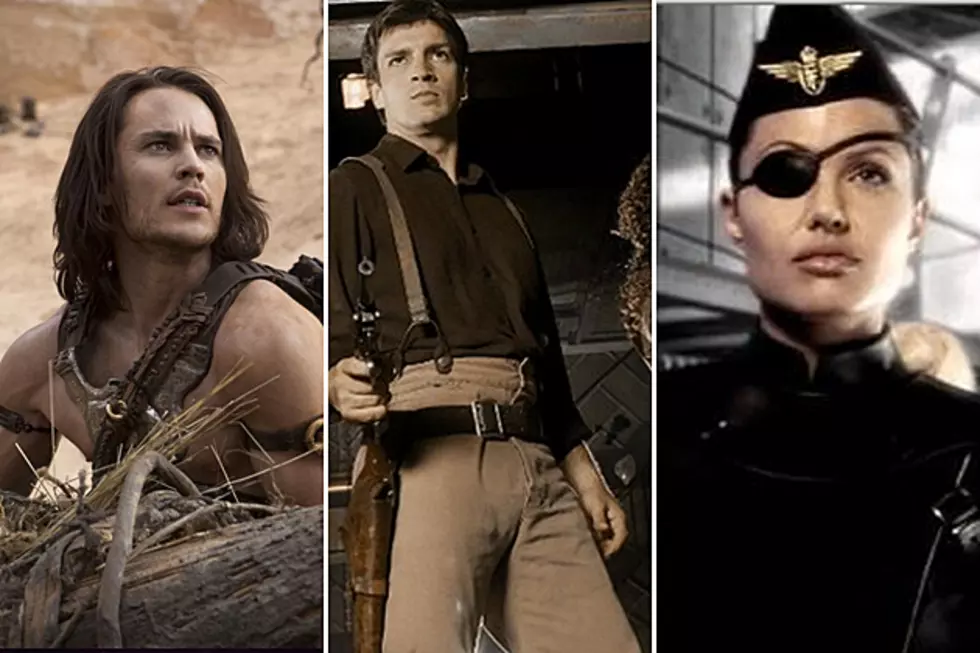 10 Would-Be Movie Franchises That Failed to Take Off
Disney/Fox
Movie studios love successful franchises because they ensure a steady stream of box office bank. But for every hot property like Batman, Iron Man, or 'Star Trek,' there are many that never take off. Consider Disney's 'The Lone Ranger' or 'R.I.P.D.' for example. Tepid reviews and weak earnings mean it will likely never spawn sequels. Instead, it seems destined to go down in history as a poorly-received $225 million one-off flick.
To be sure, Hollywood has failed many times to generate a new cash cow in the form of a money-making franchise. Here are 10 notable examples. If you're hoping for further installments for any of these, don't hold your breath.
1

'The Lone Ranger' is by no means Disney's only failed franchise in recent years. 'John Carter,' which was released in 2012, is based on the first of 11 novels by Edgar Rice Burroughs and could've spawned many sequels. Oh, except for one thing -- it was a total failure. Opening to only $30 million in its first weekend, 'John Carter's' box office take fell well short of recouping its budget and cost Disney millions in losses.

2

'Lemony Snicket's A Series of Unfortunate Events'

Based on the first three novels in Daniel Handler's popular series of children's books, 2004's 'Lemony Snicket's A Series of Unfortunate Events' was a hit and, for a time, the highest grossing film ever for Nickelodeon Movies. So where did things go wrong? According to Handler, "corporate shakeups" at Paramount delayed the making of a sequel and eventually the lead actors grew too old for their roles. In 2009, director Brad Silberling hinted that a second film could be made using stop motion animation, but no new information has surfaced since then.

3

'The Chronicles of Narnia'

For a time, it looked like 'The Chronicles of Narnia,' which is based on a series of beloved books by C.S. Lewis, might become the next 'Harry Potter.' But the fantasy franchise fizzled after three movies, primarily because production company Walden Media lost the rights to future 'Narnia' films. Douglas Gresham, co-producer and Lewis' stepson, hinted that the next film might be made independently, but it seems like a long shot.

4

'Remo Williams: The Adventure Begins'

Despite the promise of the adventure literally beginning, 1985's 'Remo Williams: The Adventure Begins,' which was based on the 'Destroyer' series of books about a U.S. government operative, never gave rise to a franchise. And it's a shame too. It starred Fred Ward as the titular hero and has become a cult classic since its release, even with the potentially offensive Asian makeup worn by Joel Grey as martial arts master Chiun.

5

'Sky Captain and the World of Tomorrow'

If Paramount had its way, 2004's 'Sky Captain and the World of Tomorrow,' which starred Jude Law, Gwyneth Paltrow and Angelina Jolie, would've established a long-running franchise akin to classic movie serials. But the visually-striking movie -- it was one of the first to be shot entirely on a "digital backlot" -- fell short of making back its $70 million budget despite mostly positive reviews. At the very least, we should get a spin-off for Jolie's eyepatch-sporting vixen.

6

'The Hitchhiker's Guide to the Galaxy'

Although it certainly looked great and was largely faithful to Douglas Adams' book, 2005's 'The Hitchhiker's Guide to the Galaxy' failed to inspire any sequels. It was perhaps too weird for those not familiar with the source material and ultimately dashed all hopes of the full series of books making it to the big screen. It was, however, a blast seeing Marvin the Paranoid Android in real life.

7

As unabashed fans of Joss Whedon's gone-too-soon space western 'Firefly,' we were understandably excited when the TV show got a second chance as the 2005 movie 'Serenity.' Unfortunately, it performed poorly at the box office and only became profitable after release on DVD. Because of this, it looks like a sequel is unlikely, but Whedon hasn't entirely ruled it out.

8

Christopher Paolini was only 15-years-old when he wrote the first draft of his fantasy novel 'Eragon,' but the book went on to become a major bestseller. The 2006 movie adaptation was a moderate success, but was savaged by critics as "derivative" and "lifeless," meaning that the rest of Paolini's 'Inheritance Cycle' tetralogy would never see the light of day as movies.

9

From the beginning, 'The Golden Compass,' which was based on the first novel in Philip Pullman's fantasy trilogy 'His Dark Materials,' was fraught with issues. The production team experienced significant delays thanks to script problems and difficulty finding a director. Plus, religious groups called for a boycott before the film was even released due to the book's anti-Christian themes.

Ultimately, it became one of New Line Cinema's most expensive movies ever and, after it underperformed, drove the studio to merge with Warner Bros. in 2008. Despite featuring CGI polar bears and the combined star power of Nicole Kidman and Daniel Craig, 'The Golden Compass' never became the full-fledged 'Lord of the Rings'-style franchise the studio hoped for.

10

'The Adventures of Buckaroo Banzai Across the 8th Dimension'

One of the strangest entries on our list, 1984's 'The Adventures of Buckaroo Banzai Across the 8th Dimension' went as far to promote a sequel during its closing credits. But, alas, 'Buckaroo Banzai Against the World Crime League' never happened. The film took in a paltry amount of money and its production company eventually went bankrupt, causing a potential sequel to become mired in litigation. Still, Buckaroo Banzai lives on in comic books created by original screenwriter Earl Mac Rauch.