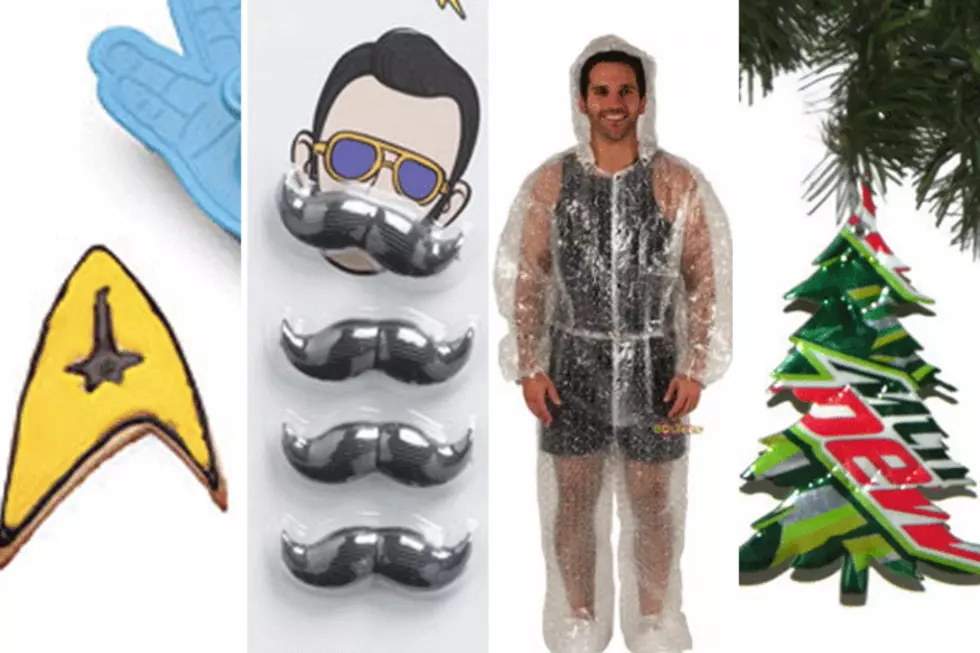 Christmas Present Fantasy Versus Reality
Think Geek, Urban Outfitters, 80stees, Etsy
Every year, hours are spent scouring the Internet and local stores for the perfect present that will change somebody's life, be the material representation of true friendship, and bring joy to humanity. Every year, that never happens. Every year, the unwrapping of gifts is an occasion met with dread. Every year, it's gift cards for everyone, and here's why.
Read on to see the reaction you expect to the gifts you give versus what the recipient really thinks.
Floating globe
Fantasy Reaction: They say, "Look, it says 'You mean the world to me" on the card! How clever is that? I love it -- LOVE IT."
Actual Reaction: [desperately trying to get the globe to stay in place as it keeps wobbling and falling off] "This will look great in the closet in the study."
Star Trek Cookie Cutters
Fantasy Reaction: "Wow, no one has ever given me anything like this before. It combines my two greatest passions -- 'Star Trek' and cookie decoration. You are perfect."
Actual Reaction: [opens drawer, throws the cookie cutters onto a pile of other, unopened 'Star Trek' stuff, including a bunch of cookie cutters, closes drawer] "These are something! Thanks!"
Owl bank
Fantasy Reaction: "This is such a singularly perfect example of style."
Actual Reaction: "Dear Lord, I just bought a grown woman a random hollow white owl."
Vintage Versace Scarf
Fantasy Reaction: "It's Versace! And vintage! You are a paragon of fashion and my favorite daughter."
Actual Reaction: "Oh, this is a nice scarf."
Novelty Ornament
Fantasy Reaction: "Oh, this is perfect for my tree. I will treasure this and hang it on my tree year after year as a sign of our enduring friendship. You *get* me."
Actual Reaction: "Oh look ... it's a Christmas tree ornament. My present for you is good year-round, so thanks, I guess."
Bubble Wrap Suit
Fantasy Reaction: "WHAT? ARE YOU SERIOUS?! I am going to put this on right now! Hey everybody, chase me! WHEEEEEEEEEEEEEEEEEEEEE YOU SAVED CHRISTMAS!"
Actual Reaction: "It's a suit made out of bubble wrap … no, I didn't make it myself. You could put it on and ... no, it's fine if you don't want to. Your real present is still in the mail hahahaha lousy Post Office."
Salt and pepper shakers
Fantasy Reaction: "So quirky! So fun!"

Actual Reaction: "They are salt and pepper shakers."
DIY cookies
Fantasy Reaction: "How charming! A gift of warmth and sweetness and cookies! All I have to add is eggs and oil? You're going to make quite the homemaker. Also, you're my favorite daughter."

Actual Reaction: "I thought I told you -- apparently I have Celiac. Maybe if you came home more often, like your sister. It's a sweet gesture."
Lots of mustache stuff
Fantasy Reaction: "This is hilarious! I love my mustache, so obviously I loooove mustache stuff!"

Actual Reaction: "Yeah, mustaches are pretty funny. I guess I should buy you a bunch of accoutrement about bangs? Seriously, it's just my facial hair, not a lifestyle choice."
Dinosaur tea towel
Fantasy Reaction: "This will fit in perfectly in my quirky vintage kitchen! I'll display it prominently among my other interesting kitchen stuff!"
Actual Reaction: "This is cute. I guess I'm gonna have to start buying fun stuff for my kitchen now." [exhausted sigh, directed at tea towel]
Emily V. Gordon is a freelance writer, comedy producer and cohost of the podcast The Indoor Kids. She lives in Los Angeles. She will most likely buy you one of these presents this holiday season, and she will most likely stress about it for weeks beforehand.