See the Cast of 'Buffy The Vampire Slayer' Then and Now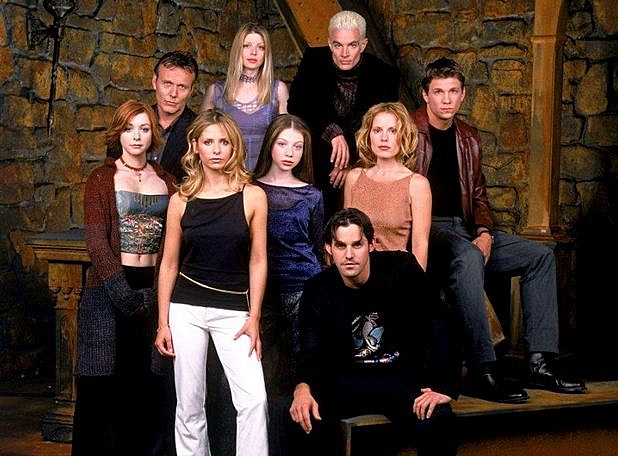 Joss Whedon's idea to subvert the Hollywood formula of "the little blonde girl who goes into a dark alley and gets killed in every horror movie" first manifested itself in the 1992 film 'Buffy the Vampire Slayer,' which starred Kristy Swanson as the unlikely killer of vampires.
But the concept really hit its stride in 1997 with the debut of the TV show of the same name.
This time it was Sarah Michelle Gellar in the title role, and 'Buffy The Vampire Slayer' proved to be a critically-acclaimed hit for the WB network, running for seven seasons.
See what the cast of 'Buffy the Vampire Slayer' are up to in these more pro-vampire times below.
Sarah Michelle Gellar, Buffy Summers
WB/Neilson Barnard, Getty Images
Then: When Gellar snagged the role of Buffy Summers she was already a TV vet, having been on the soaps 'Swan's Crossing' and 'All My Children.' 'Buffy' helped launch Gellar's movie career, which included starring roles in 'Cruel Intentions,' 'I Know What You Did Last Summer' and 'Scream 2.'
Now: Gellar's last show, 'The Ringer,' only lasted a season on the CW network. But it looks like the 35-year-old will be back on TV soon, as she has signed on to play opposite Robin Williams in the upcoming David E. Kelly sitcom 'Crazy Ones.'
Nicholas Brendon, Xander Harris
WB/seiya23, Flickr
Then: Brendon played Buffy's wise-cracking schoolmate Xander Harris. Show creator Joss Whedon has said the character is based partially on himself. It was by far Brendon's biggest role to date.
Now: In the aftermath of 'Buffy,' Brendon snagged starring roles in 'The Pool at Maddy Breakers' and 'Kitchen Confidential' opposite Bradley Cooper, although neither show stuck. These days he plays recurring character Kevin Lynch on 'Criminal Minds' and will be in the upcoming thriller 'Indigo.'
Alyson Hannigan, Willow Rosenberg
WB/Paul A. Hebert, Getty Images
Then: Who could forget Hannigan as Willow Rosenberg? Prior to playing the geeky good witch, Hannigan was probably best known for a supporting role in the movie 'My Stepmother Is An Alien.'
Now: Hannigan has starred as Lily for eight seasons of 'How I Met Your Mother.' And, of course, she continues to play her Michelle character in the 'American Pie' franchise.
Anthony Head , Rupert Giles
WB/Chris Jackson, Getty Images
Then: Head was Rupert Giles, Buffy's watcher and mentor on 'Buffy the Vampire Slayer.' The English-born actor had spent most of his career on the other side of the Atlantic before being cast as Giles.
Now: While Weldon had intended to spin the Giles character off into his own series, a dispute over rights prevented that from happening. So Head returned to England, where he has since starred in 'Merlin' and 'Dancing on the Edge,' among other shows. He is the brother of singer Murray Head, who is known to '80s music fans for his hit single 'One Night In Bangkok.'
WB/John Shearer, Getty Images
Then: Marsters made many female viewers swoon as vampire bad boy Spike. He made his screen debut a few years earlier on an episode of 'Northern Exposure.'
Now: Marsters was last seen on an episode of 'The Wedding Band.' He is set to star alongside Luke Perry (who, incidentally was in the 'Buffy' movie) in the fantasy film 'Dragon Warriors.' A rock musician, Marsters plays gigs around Los Angeles both solo and with his band Ghost of the Robot.
WB/David Livingston, Getty Images
Then: Emma Caulfield was the ex-vengeance demon Anya. She caught the attention of television viewers in 1995 after doing an arc as Brandon's girlfriend on 'Beverly Hills, 90210.' In 2003, she starred in the horror flick 'Darkness Falls.'
Now: Caulfield has had recent guest appearances on 'Once Upon A Time,' 'Royal Pains' and 'Leap Year.' She also releases two videos a week on her YouTube channel Essnemma.
WB/Kevin Winter, Getty Images
Then: Boreanaz also had hearts aflutter as Angel, a cursed vampire and Buffy's on-again-off-again love interest. The character got his own spin-off, 'Angel,' which ran from 1999 to 2004.
Now: Not long after 'Angel' ended, Boreanaz started playing Special Agent Seeley Booth on 'Bones' and has been doing so ever since. In 2013, he starred in the thriller 'Officer Down,' his first movie appearance in four years.
Michelle Trachtenberg, Dawn Summers
WB/Jason Merritt, Getty Images
Then: In season five, Trachtenberg was introduced as Buffy's previously unseen little sister Dawn. The character was generally despised by 'Buffy's' fervent fan base. Trachtenberg's biggest prior roles was as 'Harriet the Spy' in the 1996 movie. (She was also Nona Mecklanberg on 'The Adventures of Pete and Pete.') In 2004 the redhead snagged a starring role in the teen comedy 'EuroTrip.'
Now: Trachtenburg had been playing Georgina Sparks on 'Gossip Girls' until the show's cancellation in 2012. (Surprisingly she didn't turn out to be Gossip Girl.) The 27-year old recently guest starred on 'Criminal Minds' and will be in the upcoming thriller 'The Scribbler.'
Charisma Carpenter, Cordelia Chase
WB/Frazer Harrison, Getty Images
Then: Carpenter's Cordelia Chase character went from being a bullying cheerleader to ally of Buffy and her gang. (She was also one of the few characters to move onto 'Angel.') Previously, Carpenter had starred alongside Keri Russell on the short-lived prime-time soap 'Malibu Shores.'
Now: After runs on 'Greek' and 'Veronica Mars,' Carpenter seems to have found a TV home as series regular Rebecca Rybak on 'The Lying Game.'
Seth Green, Daniel 'Oz' Osbourne
WB/Paul A. Hebert, Getty Images
Then: Green was guitar playing werewolf Oz. An actor from the age of 10, he first gained notice in the 1984 film 'Hotel New Hampshire.' In 1997 he made his first of three appearances in the 'Austin Powers' franchise.
Now: Green is the voice of Chris Griffin on 'Family Guy,' and provides a slew of voices for 'Robot Chicken,' which he also co-created. As an actor, Green has had recent guest star turns on 'Franklin & Bash' and 'How I Met Your Mother,' and will join 'Buffy' alum Michelle Trachtenberg in the upcoming sci-fi comedy 'Sexy Evil Genius.'