See The Cast of '7th Heaven' Then And Now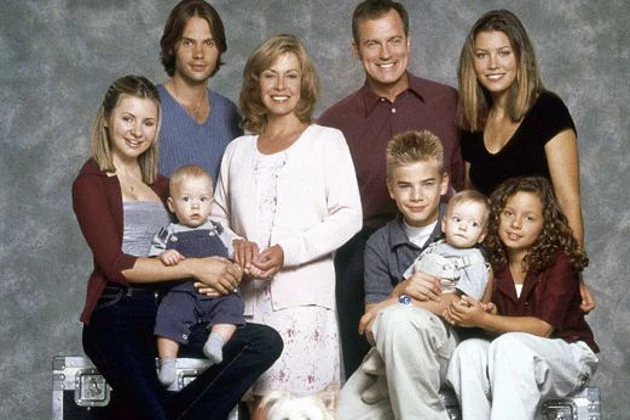 Airing between 1996 and 2007, '7th Heaven' is credited with being the longest-running family drama in television history. While the show about a minister, his wife and their seven children never drew big ratings or critical acclaim, it had a dedicated enough following that when The WB cancelled '7th Heaven' after 10 seasons another network, CW, brought it back for an eleventh. Plus, it launched the career of one major actress.
See what the cast of '7th Heaven' is up to these days below.
Stephen Collins, Eric Camden
WB/Michael Buckner, Getty Images
Then: Stephen Collins was Camden dad Eric, a minister who has a crisis of faith over the long series. While it was the biggest role of his career, you may recognize his face from films like 'Star Trek: The Motion Picture,' 'Brewster's Millions' and 'Jumpin' Jack Flash.'
Now: Collins was on the ABC series 'No Ordinary Family' until it was cancelled in 2011. Since then he's been in the movie 'The Three Stooges' and an episode of 'Scandal.' In 2012 he was in the news for divorcing actress Fay Grant, whom he had been married to for 27 years.
Catherine Hicks, Annie Camden
WB/Jason Merritt, Getty Images
Then: Catherine Hicks played Annie Camden, the busy mother of seven. Hicks got her start in 1976 on the soap 'Ryan's Hope' and was well known for her Emmy-nominated turn as Marilyn Monroe in the 1980 TV movie 'Marilyn: The Untold Story' and for starring opposite a demonic doll in the horror film 'Child's Play.'
Now: Hicks last appeared in the TV movie 'A Christmas Wedding Date.' Fun fact: She wound up marrying the guy who designed the Chuckie doll that tormented her so in 'Child's Play.'
Jessica Biel, Mary Camden
WB/Dimitrios Kambouris, Getty Images
Then:You probably remember the controversy that erupted when Biel, who played tomboy Mary Camden on '7th Heaven,' posed topless for Gear magazine. Producers were furious about the photos because they contradicted the show's position as family entertainment. In response, Biel's character became more rebellious and was eventually written out altogether; although she did return for the series finale.
Now: Biel focuses on movies these days, with 'Total Recall,' 'New Year's Eve' and 'The A-Team' among her recent high-profile roles. She is set to star opposite Jake Gyllenhaal in the upcoming David O. Russell comedy 'Nailed.' The 31-year-old married singer/actor Justin Timberlake in October of 2012.
Beverley Mitchell, Lucy Camden
WB/Michael Buckner, Getty Images
Then:  Mitchell played Biel's younger sister Mary, despite being a year older in real life. During her time on '7th Heaven' Mitchell also had supporting roles in the movies 'The Crow: City of Angels' and 'Saw II.'
Now: These days, Mitchell is guidance counselor Kaitlin O'Malley on 'The Secret Life of the American Teenager.' Also a singer, her self-titled 2007 debut album hit number 30 on the country charts.
Mackenzie Rosman, Ruthie Camden
WB/Frazer Harrison, Getty Images
Then: In her screen debut, Rosman played Ruthie, the youngest Camden daughter. In 1999, she was in the film 'Gideon.'
Now: A budding scream queen, Rosman is slated to be in the upcoming horror flicks 'Nightcomer,' 'Beneath' and 'Ghost Shark', which is both the most terrifying kind of shark and the most terrifying kind of ghost. When she's not doing that she is a competitive equestrian rider.
David Gallagher, Simon Camden
WB/Alberto E. Rodriguez, Getty Images
Then: We met David Gallagher in 1993 as John Travolta and Kirstie Alley's son in 'Look Who's Talking Now.' But it was his role as Simon Camden that he is now best known for. During Gallagher's long run on '7th Heaven,' he also starred in the direct-to-video movies 'Angels in the Endzone' and 'Richie Rich's Christmas Wish.'
Now: Gallagher has been a busy guest star, popping up on shows like 'Criminal Minds,' 'Vegas' and 'CSI: New York.' He is set to star in the horror movie 'Scared of the Dark.'
Barry Watson, Matt Camden
WB/David Livingston, Getty Images
Then: That was Barry Watson as eldest Camden son Matt, who eventually became a doctor and dabbled in secret marriage. The former male model got his start on the soap opera 'Days of Our Lives.' After '7th Heaven' he was the star of the series 'What About Brian,' which lasted two seasons.
Now: Watson recently did an arc as Steven Spence on 'Gossip Girl' and guest starred on 'The Wedding Band.' In 2010, he directed an episode of 'The Secret Life of the American Teenager.'
George Stults, Kevin Kinkirk
WB/Alexandra Wyman, Getty Images
Then: George Stults' Kevin Kinkirk character was the most featured non-Camden during '7th Heaven's' 11 seasons. Stults started out as a fashion model and was on one episode of 'Friends' and one of 'Everybody Loves Raymond' before joining '7th Heaven.' He was cast to be the brother of his real-life brother Geoff Stults, who played one of Mary's love interests in what eventually became a much smaller part.
Now: Stults last appeared on a 2012 episode of 'The Finder,' which also stars his brother Geoff.
Brino Quadruplets, David and Sam Camden
WB
Then: Initially all four Brino quadruplets, Lorenzo, Myrinda, Nikolas, and Zachary, took turns playing twins David and Sam Camden, who were introduced to '7th Heaven' as newborns in the show's highest-rated episode. Beginning in the fourth season only Lorenzo and Nikolas portrayed the twins.
Now: The only one of the four to do any acting since '7th Heaven' is Zachary, who did two episodes of Barry Watson's show 'What About Brian.' The boys' parents have stated they want their kids to have a normal upbringing and aren't pushing them to do any more acting. (And also aren't too keen on publicizing any of their photographs.)