'Real Housewives of Beverly Hills' Speak Out on Russell Armstrong's Suicide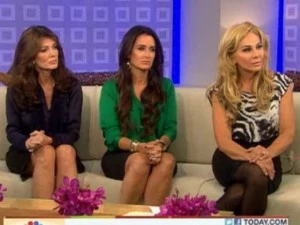 On 'Today,' 'Real Housewives of Beverly Hills' stars Adrienne Maloof, Kyle Richards and Lisa Vanderpump, as well as executive producer Douglas Ross, spoke about the tragic suicide of Russell Armstrong, estranged husband of co-star Taylor Armstrong.
The suicide threw the planned premiere of the show's second season, which detailed the dissolution of the Armstrong marriage, into turmoil. But, Ross said, it was decided to simply re-edit rather than scrap the season in its entirety.
"We, along with the network, took a hard look at the show… and we decided to make some adjustments where appropriate in light of the circumstances," he said. "Our goal has always been to make an honest and accurate story about the ladies and what goes on in their life. We want to be, and always are, respectful and responsible, and in this case, trying to be very appropriate."
Visit msnbc.com for breaking news, world news, and news about the economy
[Today]