Before They Were Famous: 14 Early Roles of Your Favorite Stars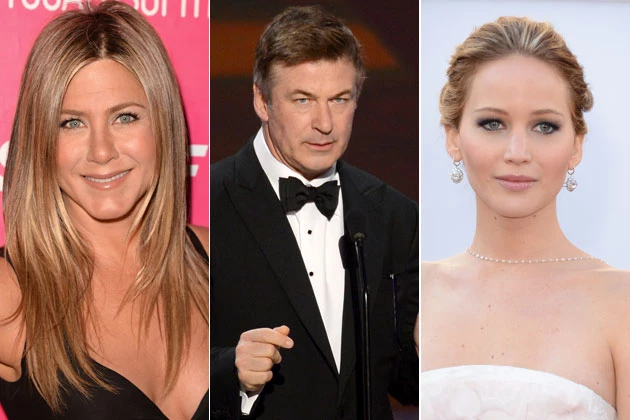 Becoming a Hollywood A-lister is no easy task. You have to endure your share of small roles and bad shows before the job offers start rolling in and you find yourself dotting the covers of tabloids.
Almost every actor and actress has a role that, in some way, helped get him or her to the next level. Here's a look at the tiny roles some of the biggest names in Tinseltown had long before they could get any part they wanted.
Wilson struck comedy gold as egotistical Dwight Schrute on 'The Office.' But long before he became Dunder Mifflin's creepiest and most intense employee, he played Casey Keegan on 'One Life to Live' in 1997, his first credited TV role, where we get an early look at the intensity that may have helped him score the part of Dwight.
Seinfeld is a comedy legend whose eponymous sitcom is considered by many to be the best ever. But back in 1980, he was just another comic looking to make it big when he earned a role on 'Benson' as a funny speechwriter.
Jerry was ultimately let go from the show and didn't appear in another TV series until 'Seinfeld' launched in 1989 under the title 'The Seinfeld Chronicles.' Guess things worked out for him.
Seacrest is one of the hardest working men in show business today. In fact, he was always a hard-working guy, beginning with his first TV credit — a show called 'Wild Animal Games' from 1995. Still, it's his work on 'Gladiators 2000′ that is truly amazing to watch because he looks nearly unrecognizable.
Seriously, did he just come from the gym before stepping in front of the camera?
One of the more well-known showbiz stories is how J-Lo paid her dues as a Fly Girl on the Fox sketch comedy series 'In Living Color' in the early '90s. She didn't appear in any sketches, but that's okay because those dance moves would eventually propel her to superstardom.
Fox is another star a lot of folks may remember from a sitcom, thanks to her role on 'Hope & Faith.' But before she traded punchlines with Kelly Ripa, the future Mrs. Brian Austin Green had a guest starring role on 'What I Like About You' in 2003 with a pre-Twitter drama Amanda Bynes.
Brad Pitt and Jennifer Aniston
Before becoming megstars and joining in holy matrimony and then a divorce that still fascinates the tabloids, Brad Pitt and Jennifer Aniston actually crossed paths at Fox in 1990 when they starred in separate shows for the then-fledgling network. 'Molloy' (also featuring a very young Mayim Bialik) was Aniston's first TV series and 'Glory Days' was another vehicle for Pitt, who had racked up plenty of credits by this point in his career, but had yet to become a heartthrob. Wonder if they exchanged numbers at any network parties.
He hit paydirt with his portrayal of Chandler Bing on 'Friends,' but Perry already had a long resume before landing in the cast of the iconic NBC sitcom. In fact, one of his earliest jobs came on 'Charles in Charge' way back in 1985. Chandler would never be caught dead in that dorky sweater.
Before Bella was a glimmer in her 'Twilight' eye, before she was criticized for her aloof demeanor, before she was blasted for her acting and before she cheated on Robert Pattinson, K-Stew was just a little girl. The 1999 TV-movie 'The Thirteenth Year' is her first credited appearance.
Kristen hadn't even cracked double digits in age when she played the girl in the white sweater holding the green notebook standing in line at the water fountain. Don't blink or you might miss her.
Before earning fame as sexy spitfire Gabrielle on 'Desperate Housewives,' Longoria really paid her dues. Her first TV gig came as a flight attendant in 2000 on 'Beverly Hills, 90210' when the Fox drama was nearing its end.
It seems like Baldwin has been around forever, having conquered both TV and film. In reality, Baldwin's career started to take off in 1980 when he starred as Billy Aldrich on the soap opera 'The Doctors.' Check out the intensity in this clip. Even back then, he had some serious acting chops.
This funnywoman is a hoot on 'Parks and Recreation' and many know her from her time on 'SNL.' Even before that, though, she worked steadily and landed a role on the Judd Apatow Fox comedy 'Undeclared' in the early 2000s, shortly before joining 'SNL.'
He would go on to fame on 'Moonlighting' before becoming one of the biggest action stars in the world. But before any of that, Willis would guest star on a 1984 episode of 'Miami Vice.'
Burrell is a smash as clueless Phil on 'Modern Family,' but America wasn't always clued into his talents. Back in 2001, an unknown Burrell broke into the small screen in a totally different role when he appeared on the Emmy-winning hit 'The West Wing.'

Source:
Before They Were Famous: 14 Early Roles of Your Favorite Stars